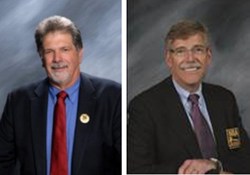 Portland, ME (PRWEB) August 15, 2013
Tranzon Alderfer President Sanford L. Alderfer, CAI, MPPA, was elected President of the National Auctioneers Foundation Board of Trustees, and Tranzon Auction Properties President Thomas W. Saturley, CAI was elected Vice President of the National Auctioneers Association Board of Directors. Both were installed at the National Auctioneers Association International Conference & Show in Indianapolis on July 18.
Sandy Alderfer is President of Tranzon Alderfer in Hatfield, PA. He is active in the National Auctioneers Association and was inducted into its Hall of Fame in 2012. He has served as President of the Pennsylvania Auctioneers Association and was honored as its Auctioneer of the Year in 2005.
Sandy has been in the auction and real estate business since 1972. In addition to his role at Tranzon, he is President and CEO of The Sanford Alderfer Companies which specialize in ethically and creatively helping people manage the maze of property in transition.
Tom Saturley is President of Tranzon Auction Properties in Portland, ME, with offices in Massachusetts, Connecticut, New York, and the Northern New Jersey area. Previously, Tom was a practicing attorney in Maine and New Hampshire routinely representing clients in complicated real estate development and lending transactions. He also served as an Assistant Attorney General for the State of Maine.
Tom is licensed to conduct auctions in Maine, New Hampshire, Massachusetts and Vermont, and is licensed to sell real estate in Maine, New Hampshire and Colorado. With a background in law, real estate, auction marketing, and business management, Tom has spoken extensively on auction methodology in various professional forums and educational settings throughout the country.
About Tranzon: Tranzon is one of the largest real estate auction companies in the country, with 30 offices coast-to-coast. Tranzon's accomplished auction professionals are widely recognized as leaders in the auction industry, and have conducted auctions in 48 states and the District of Columbia, selling more than $2 Billion in total asset value. All Tranzon companies are independently owned and operated.
About the National Auctioneers Association: The NAA is the world's largest professional association dedicated to professional auctioneers. The NAA provides critical resources to auction professionals that constantly enhance their skills and success.
About the National Auctioneers Foundation: The NAF provides funding to advance the auction community. The NAF provides funding to the NAA for research, education and public relations programs.