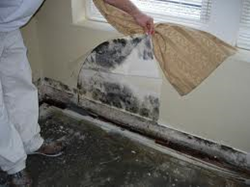 When disaster strikes...strike back!
Baltimore, MD (PRWEB) August 15, 2013
Mold is a fungi that has a "musty" or "earthy" smell and is naturally in the environment and needs moisture to grow & multiply. Mold damage growth can happen within 24-48 hours and can occasionally be a health hazard, but also useful; they are essential for the breakdown of dead organic matter in the natural environment, and they are a source of antibiotics and drugs. Molds thrive in warm and humid conditions. Check for mold in basements, showers and in other areas where humidity levels are high. Molds can also grow on wood, ceiling tiles, wallpaper, paints, carpet, sheet rock, and insulation. Excess moisture can enter your home through a leaky roof, high humidity, or flooding.
You can be exposed to mold once it has been disturbed. The mold releases spores that you can breathe in through the air. Mold can also be harmful if it is exposed to your skin. Foods that have been sitting for a long period of time may also have mold.
You can detect a mold problem if you smell a musty odor or if you find clusters of small black specks in a damp area. Keep the moisture out of your home to keep the mold away!
ServiceMaster by Singer is a full service restoration company serving the Baltimore Washington Metropolitan areas for over a decade. We are a leading restoration company providing Water Mitigation, Fire Damage Restoration, Mold Remediation, Complete Construction Services, Storm Damage Restoration, Crime – Trauma Cleaning, Hoarder Cleaning, and Residential and Commercial Cleaning Services. Call for more info: 855-5-Singer