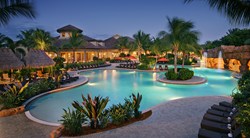 This expansion plan will dramatically increase the size of the Players Club & Spa," said Melissa Speach, Director of Lifestyle. "We are adding nearly 13,000 square feet under air to the existing structure."
Naples, FL (PRWEB) August 13, 2013
Stock Development has begun construction on a dramatic expansion of the Fitness Center and Spa at The Players Club & Spa at Lely Resort. The Lely Resort Players Club renovation will transform and update the entire facility.
"Stock's expansion plan will dramatically increase the size of the entire Players Club & Spa," said Melissa Speach, Director of Lifestyle. "We are adding nearly 13,000 square feet under air to the existing structure. One of the most exciting components of this is the Fitness and Spa Wing!"
Under the new plan, the entire wing of the Fitness Center & Spa, is being tranformed. The Fitness Center renovation includes adding a second exercise room, expanding the current aerobics studio and adding a new one. The aerobics area will almost triple in size and the exercise equipment area will nearly double. The beautiful Spa Wing will grow to include four treatment rooms, an ante room and a nail salon. The new Fitness Center & Spa are tentatively scheduled to debut in January 2014. -more-
In other plans, the dining room is being enlarged with the addition of a beautiful new indoor/outdoor lounge area being added. The expansive dining area will include a magnificent fireplace wall, decorative wine storage wall and a dance floor.
The lounge will feature several intimate sitting areas complete with richly upholstered banquette seating and club chairs. The adjacent octagonal shaped lounge overlooks the tropical pool deck. The private dining room will have added drama with the addition of an oversized wood dining table to seat thirty-two guests. This space will have versatility to cater to variety of events and occasions.
The new game room will double in size! Two large flat screen televisions and additional game tables will be added, while the computer room will be updated with a more inviting layout. The new bookshelves and lounge seating will grant increased function and usability for members and their guests.
Currently, there is a resort-style lagoon and spa with elaborate waterfalls, a tropical island, cabanas and a beach area around the pool. Adjacent to the pool and beach area is a lap/fitness pool set up for water aerobics. Work has now begun on a second resort pool.
The second free-form pool will dramatically increase the number of people who can be accommodated by these extraordinary resort-style amenities at any time.
Already completed is a new full kitchen at the Tiki Bar, which has seven 50-inch flat screen TVs, broadcasting The NFL Ticket on Sundays during football season, as well as other sporting events throughout the year. -2-
The two year project began last year with the construction of an extraordinary new tennis complex. The thirteen new state-of-the-art tennis courts are open for play at this spacious 4-acre facility, nearly doubling the size of the previous one. The new tennis amenities are conveniently located adjacent to the clubhouse and locker rooms.
Joining the 13 new Har-Tru tennis courts are a new tennis pro shop, a maintenance building and the Courtside Café, serving a light menu and providing a comfortable seating area for residents to relax after play.
The Players Club's previous tennis complex was already highly regarded and served as the host site of world-class tennis events such as the Outback Champion Series. The new facility features a stadium court with expandable seating for tournament events.
Lely Resort's legendary lifestyle also includes 54 holes of Florida's greatest golf, with fairways and greens that offer infinite challenge. In fact, Lely's on-site championship golf represents the most comprehensive package of its kind on the Gulf Coast.
Within a serene natural setting, Gary Player and William Graves designed The Classics Course as the epitome of a club player's golf course. This masterpiece requires planning and strategy backed up by the solid golf skills that characterize a true club player. His design reflects his philosophy that a series of well-hit shots should provide the golfer with a reasonable opportunity to make par and that a golf course should celebrate the natural environment that encompasses it. -3-
One of the game's most prolific and innovative golf course architects, Robert Trent Jones, Sr. designed Flamingo Island to emphasize the hallmarks of his architectural style. The course is characterized by extensive sculpting and shaping of the land. He implemented strategic deployment of water as a playing hazard and a scenic complement to the course as well as the use of multiple teeing areas with large, contoured greens. This combination of design elements yields 18 holes of pure Robert Trent Jones, Sr. magic.
Lee Trevino's philosophy of making the game challenging but fair even for average golfers is evident on the masterful Mustang championship course. Designed with a forgiving layout where a player can recover from a bad shot, this course will have you coming back time after time. Twelve lakes decorate the landscape and extensive bunkering is found throughout. However, Trevino designed generous landing areas and fair entries to the greens, making it accessible to players of all skill levels.
Sharing the spotlight with these extraordinary amenities is an amazing array of residential options from 1,200 square foot flats to 5,000-plus square foot estate homes. There are furnished models open in neighborhoods priced from the $200s to more than $1 million. Numerous homes are available for immediate occupancy.
The Lely Resort Sales Center is located at 8020 Grand Lely Drive, on U.S. 41 and C.R. 951. From I-75 take exit 101 (C.R. 951) south five miles to Grand Lely Drive. For more information, visit Lely on the web at http://www.lely-resort.com/. Visit Lely Resort on Facebook at http://www.facebook.com/LelyPlayersClub.
-end-