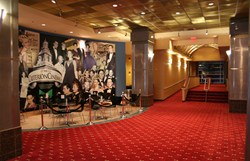 CM's value proposition has always been clear – we are flexible, design savvy and our service level is unprecedented.
Dalton, GA (PRWEB) August 15, 2013
Clayton Miller Hospitality Carpets has announced its introduction of Action Bac Plus backing system. This new offering was specially formulated to handle high traffic areas and for more complex carpet constructions such as Colorpoint, Colortech, and CYP thread-ups.
Clayton Miller has always prioritized innovation and technologies in all of their components especially in area of secondary backings. The need for an economically yet higher quality latex backing was evident to Clayton Miller when they went to the drawing board to better their backing components. The goal was to make a backing that was not over kill but met the requirements for dealing with high traffic applications such as public spaces, corridors, & guestrooms.
Clayton Miller Hospitality specializes in high-end 4 and 5 star hospitality carpets for the hotel and resort industry and prides itself on being adept to make new and inventive changes immediately without going through the formalities that larger manufacturers have to go through to implement new products.
"CM's value proposition has always been clear – we are flexible, design savvy and our service level is unprecedented," said Hugh McClain, the President of CMHC. "and that's how we will continue to run our business day end and day out."
Clayton Miller Hospitality Carpets
2304 Dalton Industrial Court
Dalton GA 30721
Phone: 877-261-6334
Fax: 877-261-6335