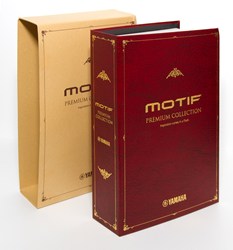 Buena Park, CA (PRWEB) August 14, 2013
Yamaha premiered its MOTIF XF Premium Collection promotion at Summer NAMM 2013. Musicians who purchase a MOTIF XF6, 7 or 8 keyboard workstations between June 1, 2013 and Sept. 30, 2013 will receive the free bundle. The MOTIF XF, the world's best selling music workstation, offers up to 2GB of Flash memory expansion to give producers and performers complete control over their sound, and is the best-sounding, most powerful MOTIF Yamaha has ever made.
The MOTIF Premium Collection contains a FL512MB Flash Board, along with data libraries and support items from Yamaha and companies. The collection also includes two Virtual Synth Technology (VST) instruments and over 3.9 GB of sample content, including Chick Corea's Mark V EP and a library of piano sounds from the CP1, Yamaha's flagship stage piano, and some great new sounds from Twisted Tools and SoundWaves.
The collection also contains content featuring videos that help you get the most out of your MOTIF. The VST video provides instruction on the Yamaha YC3B, a tone wheel organ emulation softsynth, and Prologue, Steinberg's virtual analog synth. A brief explanatory video discusses the Twiddly.Bits MIDI loop library Drums and Percussion, in MOTIF format. Other content includes an in-depth look at the technology incorporated in the KARMA MOTIF, the innovative algorithmic music software, and a 75-minute video on tips for using the XF Flash Boards.
In addition, the package includes two more Voice and Sample banks featuring the Yamaha CS80 synthesizer. Exceptional realism has been achieved thanks to the expertise of Professor Dr. Peter Jung.
Log onto http://www.usa.yamaha.com, after purchasing the MOTIF to register and complete the promotion claim form. These form submissions must be received by Oct. 15, 2013.
For more information, write Yamaha Corporation of America, P.O. Box 6600, Buena Park, CA 90622; telephone (714) 522-9011; e-mail infostation(at)yamaha(dot)com; or visit http://4wrd.it/MOTIFPROMO.
-END-
About Yamaha
Yamaha Corporation of America (YCA) is one of the largest subsidiaries of Yamaha Corporation, Japan and offers a full line of award-winning musical instruments, sound reinforcement and home entertainment products to the U. S. market. Products include: Yamaha acoustic, digital and hybrid pianos, portable keyboards, guitars, acoustic and electronic drums, band and orchestral instruments, marching percussion products, synthesizers, professional digital and analog audio equipment, Steinberg recording products and Nexo commercial audio products, as well as AV receivers, amplifiers, Blu-ray/CD players, iPod docking systems, home-theater-in-a-box systems, earphones, headphones, sound bars, and its exclusive line of Digital Sound Projectors. YCA markets innovative, finely crafted technology and entertainment products and musical instruments targeted to the hobbyist, education, worship, professional music, installation and consumer markets.