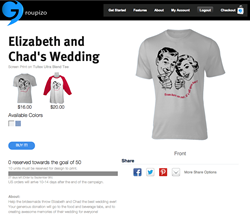 Chicago, IL (PRWEB) August 14, 2013
What's a bridesmaid to do when the cost of being in a close friend's wedding becomes unmanageable? Never fear, Izo Brands is here with Groupizo, its design and sell fundraising platform, set up ideally to crowd fund cash when it's needed most. Not only is Groupizo perfect for group funding charitable donations, it helps groups distribute cost fairly when everyone must chip in to pay for an event.
Nora Pacha, Creative Director at Izo, encountered this issue recently. The price tag for a friend's wedding grew from an approximate $500 dollar expenditure to nearly $1500 for all costs involved in serving as a bridesmaid and attending the event. The pile up started reasonably enough with the bridesmaids' dresses, which, "...looked awesome on each and every one of the 5 bridesmaids. We all are different sizes and shapes but this dress just fit us all perfectly... very reminiscent to the pants from Sisterhood of the Traveling Pants sooo basically this dress is magical. Then, its $350," and escalated from there to include concert tickets for the bachelorette party, costs for additional activities, a suite for the wedding weekend in a four star hotel, alterations for the dress, shoes, hair and makeup, a wedding gift, shower gifts, and a cut of the bill for the food and booze at the shower itself.
In order to alleviate some of the financial burden for these responsibilities (because a Lady does not back out of a girlfriend's Big Day), Nora created a Groupizo event commemorating her friend's wedding, with the intention of covering the costs of the wedding shower - which was the straw that broke the cash-camel's back. Wedding guests have the opportunity to purchase these fun, cheeky tees to memorialize the special occasion while helping the bridesmaids to crowd fund their extra expenses.
The cost of wedding attendance for guests has been a hot topic in the news recently. In addition to Nora's experience, nuptial attendees all of the U.S. have hotly debated the pricy aspect of weddings all summer. From giving cash as a gift to the bride and groom's expectations of who pays whom for what, the finances of getting hitched have been a common (or at least highly visible) speedbump on the road to married bliss. Most of these issues can be group funded away with Groupizo!
Additionally, personalized touches and the custom made give an added touch of elegance to wedding decor and favors. Instead of spending time, energy, and budget on recreating Pinterest ideas, which are a dubious bet for all but the most experienced and skilled crafter, the bride and her bridesmaids (and the groom, if he so chooses) can decide on a closet of multiple products to offer each guest, such as custom tote bags, Klean Kanteen water bottles, BYO by BUILT neoprene bottle sleeves, and coasters.
About Customizo and Izo Brands: With Customizo, Groupizo and Snapizo, Izo is knitting the framework for the future of e-commerce with a multi-faceted set of innovative product customization and design tools, a unique group collaboration interface, and mobile media distribution applications. Izo's mission is to be the most customer-centric, creative, and innovative company in the custom apparel and promotional products industries.