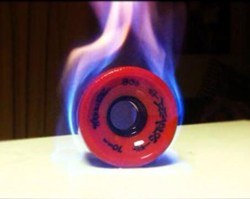 "one of the smoothest wheels ever"
(PRWEB) August 15, 2013
By The Numbers:
Diameter: 70mm
Durometer: 80a/85a
Width: 45mm
Contact Patch: 45mm
Core Position: Centerset
Lips: Round
Disciplines: Fast Freeride, Technical Freeride, Crusing, and Carving
Wheelrz Wheels currently has three wheel designs, the Diablos, the 70's, and the Magic 8-0s (aka Magic 8 Balls). This review will be about the Diablos. The Diablos were designed to be extremely controllable freeride wheels, and they've accomplished that goal. When the Wheelrz Diablos come out of the shrink wrap they still have the mold release on them, and they do not come pre-broken-in but after the mold release has come off they deliver an extremely buttery and smooth slide.
Fully Broken In
Once the Diablos are broken in they bring a super buttery and smooth slide than is unmatched by any other wheel on the market. These wheels are awesome for nice technical tricks like no comply and slide shuvs, but not only that, if a rider likes holding out huge standies and being super steezy, these wheels will deliver. Another great thing about Diablos is the initiation predictability. A rider will never be sliding on these wheels unless they slide is initiated.
The only bad thing about the Diablos is they wear fairly quick, but that's the price to be paid in order to get an amazing slide.
Pros:
Awesome Slide
Good Price
Cons:
Aren't Extremely Durable
Don't Come Pre-Broken-In
In Conclusion
So to wrap things up, the Diablos are an extremely buttery freeride wheel that come highly recommended by many longboarders. The wheel features almost no faults at all! WheelRZ Diablos truly are 'Rollin on Progression'.