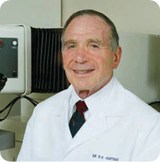 Cataract surgery has advanced so far in recent years, that it only takes a procedure lasting less than 15 minutes to have a patient looking through clear eyes once again
Los Angles, California (PRWEB) August 15, 2013
August marks Cataract Awareness Month, and the physicians So Cal Eye Physicians are doing their part to spread the word on symptoms and solutions. During the month of August, the doctors are placing an increased emphasis on educating all patients, not just elderly, on what to look for.
"Cataract surgery is the most common procedure performed in the United States, but many people remain uneducated when it comes to the symptoms," said Dr. Ronald Hartman. "We feel that it is our duty not only to treat those patients that come to us with cataracts, but to educate our community on the symptoms, treatment options, and quality of life available to them. No matter the age, we can educate those patients that may be in a time of life where they experience symptoms, or we can educate patients to help their family members recognize the signs."
Cataracts are a clouding of the eye's natural lens and are the leading cause of vision loss in patients over age 55. The process is due to natural aging and can happen slowly over time. Symptoms include blurry vision, faded colors, glares from lights at night, and double vision. Cataracts surgery involves the removal of the eye's natural lens and cataract, and the insertion of a new, intraocular lens that will allow the patient to see clearly once again. The physicians of So Cal Eye conduct each procedure on a case by case basis, not always performing when the cataract is "ripe", but more when the cataracts are restricting quality of life.
"Cataract surgery has advanced so far in recent years, that it only takes a procedure lasting less than 15 minutes to have a patient looking through clear eyes once again," said Dr. Larry A. Pasquali. "And now we can offer premium intraocular lenses that allow for our patients to see both near and far after surgery without the use of glasses or contacts. The technology is amazing."
About So Cal Eye: The doctors So Cal Eye are known throughout California and the United States as one of the leading ophthalmology groups and the go to practice for LASIK and cataract treatment. The doctors combine more than 100 years of experience to serve not only as physicians, but also clinical investigators and educators at the University of California Irvine. As clinical investigators, the doctors work with some of the newest technology and procedures, specializing in implantable lens testing.
Contact Info:
Lakewood Location
3300 East South St. #105
Long Beach, CA 90805
(562) 531-2020
Los Alamitos Location
3801 Katella Ave. #130
Los Alamitos, CA 90720
(562) 598-7728
Facebook: https://www.facebook.com/#!/pages/So-Cal-Eye-Physicians/158376571000411
Website: http://www.socaleyedocs.com