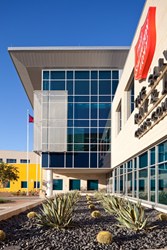 The design of the Center required a unique shading element system to reduce heat gain and glare, allow views of the mountains, and permit vision into the building at night. Cambridge provided the materials with excellent results.
(PRWEB) August 14, 2013
A fresh aesthetic of gleaming stainless steel rigid mesh panels from Cambridge Architectural perform solar shading for the lobby, main atrium and Arizona's largest indoor aquatic center of the new Phoenix Kroc Center. In fact, Cambridge metal mesh systems can be found throughout the community center.
The 147,000-square-foot facility offers three multipurpose sport fields, a full-size football/soccer field, two practice boxing rings, indoor swimming pool, nine volleyball courts, a walking/running track, rock climbing wall, computer labs, wellness center, performing arts center and library. The center is one of the largest in the family of Kroc centers in the country and is seeking LEED® Gold certification for sustainable design and energy efficiency.
"This project has been especially rewarding for us because of the importance this center has on the greater-Phoenix area," says Heather Collins, Director of Marketing for Cambridge Architectural. "We're very proud to contribute to the facility's modern and inviting look which welcomes the community into the house that provides opportunity and offers hope for a life transformed."
The panels of woven metal fabric installed in tension, parallel to the structure's windows, facilitates daylighting while blocking harsh sunlight and the heat that it generates for the interior. The framed rigid shade systems distill and reduce the glare of natural. Also shading the main lobby and atrium, a Cambridge canopy system of flexible mesh provides shading from the sunlight coming in from above. In one additional touch, Cambridge mesh graces the cross on the steeple.
"The design of The Salvation Army Phoenix South Mountain Ray & Joan Kroc Corps Community Center required a unique shading element system which helped reduce heat gain and glare, allowed views to the South Mountains beyond, permitted vision into the building at night and was aesthetically pleasing," says Steve Blackburn, Principal at Barker Rinker Seacat Architecture. "Cambridge Architectural provided the material and system to meet these requirements the design team was looking for and we are very pleased the resulting application."
The system was fabricated with mesh in Cambridge's Shade pattern, which features large-scale, flexible open weaves that shade and screen structures including facades, parking garages and pavilions.
Cambridge's Eclipse™ tension attachment hardware was used to install the Shade product. Tailored edges are provided for expanses of flexible metal fabric in tension. Elegant, custom cut apertures receive the metal fabric ends in tubing that is integrated into a bracket and structural support design. Tube sizes may vary to emphasize or de-emphasize the attachment. The Eclipse hardware is appropriate for lengths of metal fabric held in tension up to 100 feet. The project team consists of architects Barker Rinker Seacat Architecture, Denver, CO, Dick & Frische Design Group, Phoenix, AZ, contractor Haydon Building Corp, Phoenix, AZ, and installer Pro-Steel, Scottsdale, AZ.
About Cambridge Architectural
Cambridge Architectural is the most robust full-service provider that sees a design through to ribbon-cutting. As the world leader in tensioned mesh systems, Cambridge Architectural metal fabric solutions lend unique aesthetic appeal, functionality, affordability and sustainable benefits to parking structures. As exterior cladding for parking garages, Cambridge applications provide ventilation, fall protection, visibility, headlight attenuation, safety, security and many additional functional benefits. Cambridge offers a full range of sustainable metal mesh solutions, providing full system design, engineering, and installation services, in the most challenging building environments and under the strictest budgets. Visit CambridgeArchitectural.com to experience Cambridge's abilities.