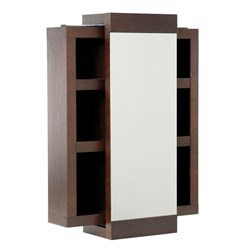 We love the Mito bathroom furniture range for its elegant styling and use of high quality real wood veneers.
(PRWEB UK) 13 August 2013
The online bathroom retailer Bella Bathrooms now stocks a wide range of Mito bathroom furniture.
The sophisticated collection features a cornucopia of furniture options, with essentials such as mirrors and cabinets sitting side by side with gorgeous accent pieces including cupboards, washstands and vanity units. The entire line is currently available with up to 50% off when ordered online for a limited time only.
Recognisable for its use of beautiful real wood veneers,the Mito bathroom furniture range is picked out in stunning oak, wenge and walnut, all manufactured by the well respected Cavalier brand.
The contemporary designs are muted with elegant and classic touches, making each item an investment piece sure to be enjoyed for years to come. One such example is the stunning Walnut Slatted 2 Door Unit, currently reduced from £588 to £293. A floor standing cupboard, the design features two cupboards with doors and two shelves, all generously proportioned and styled to fit a modern, minimalist bathroom. The unit can be paired with any of the other products in the range – also available in walnut are a slatted vanity unit, a mid-height one door unit and a single door mirror cabinet. An oak version of the two door unit is also available.
Those searching for a focal point ought to consider the Wenge Sliding Mirror Cabinet. Modern in design but with the traditional wenge dark wood finish, the sliding mirror feature adds a stylish yet practical edge to any bathroom or showroom. Within, there are three shelving levels, giving ample storage for cosmetics and other items. The Sliding Mirror Cabinet is currently priced at £165, reduced from £308 for a limited period. Also in Wenge, Bella Bathrooms stocks a range of varying size washstands and cabinets.
A number of Oak items complete the Mito collection. Washstands are available in a choice of three sizes and can be complimented with an optional designer washbowl.
Bella Bathrooms' Richard Thompson said, "We love the Mito bathroom furniture range for its elegant styling and use of high quality real wood veneers. The whole collections is simple, elegant and incredibly classy and makes for a stylish addition to any bathroom."