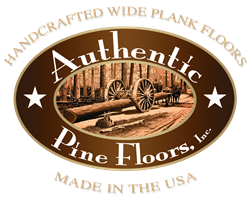 "We wanted to produce an engineered floor that once installed, cannot be differentiated from a solid wood floor."

Zack McMurry, owner
Locust Grove, GA (PRWEB) August 18, 2013
Authentic Pine Floors is now producing engineered reclaimed heart pine in-house, 100% made in America.
Available both prefinished and unfinished; in random widths (3 1/8", 5 1/8", 6 1/2"), lengths 2' - 8', tongue & grooved/end-matched. 4mm wear-layer with an overall thickness of 5/8". Custom widths/thickness also available.
Solid heart pine flooring is typically desired because of the exceptional durability and the fact they can be refinished/sanded several times throughout their lifetimes. Just like a tree trunk in the wild, these floors absorb moisture easily and normal seasonal movement must be expected.
Authentic Pine Floors created an engineered reclaimed heart pine floor by combining those same desirable traits of solid wood with increased stability. Engineered flooring starts with the same raw, reclaimed material as solid heart pine flooring, but the boards consist of a top layer (or veneer) made from the actual reclaimed material. This substantially reduces the waste normally generated when producing an antique/reclaimed heart pine floor. Because rapidly-renewable birch plywood is used as a base, engineered planks are less expensive than their solid wood equivalent and do not absorb as much moisture. The result: engineered floors are much more stable (less movement) than solid wood floors.
The wear-layers/veneers are sliced in the same manner as solid wood, ensuring authentic grain, knots etc. Sliced wear-layers/veneers rather than rotary peel make it impossible to differentiate these engineered floors from solid wood once installed.
Low VOC adhesive is used to bond the wear-layers with rapidly-renewable birch plywood. The plywood is produced using formaldehyde-free adhesive.
Authentic Pine Floors' engineered reclaimed heart pine flooring is suitable for installation above/on/below grade, over concrete slabs and radiant heat. Engineered flooring works in both residential and commercial projects.
Since 1985, Authentic Pine Floors has been an industry leader in wide plank, long length flooring. Specializing in wide plank reclaimed heart pine flooring as well as custom stair parts and moldings.