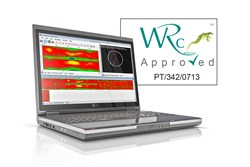 WRc approval has become the de facto standard [for ovality measurement] used by installers, rehab contractors and asset owners throughout North America and beyond.
Pittsburgh, PA (PRWEB) August 13, 2013
WinCan LaserScan software, distributed in North and South America exclusively through Pipeline Analytics, is now WRc Approved per PT/342/0713. To earn the approval, the software had to demonstrate ovality measurement to within +/-1% accuracy under several combinations of pipe size, material and deflection.
"Absent any homegrown standards for pipe ovality measurement, WRc approval has become the de facto standard used by installers, rehab contractors and asset owners throughout North America and beyond, " said Mike Russin, Business Manager for Pipeline Analytics. "The review process was very rigorous, and we're proud to join the prestigious family of WRc approved technologies."
The approval has been granted for an initial period of five years, after which it will be renewed periodically.
About WinCan.
WinCan™ was the original pipe inspection and asset management software when it entered the market 15 years ago. Today, it's the most trusted pipeline software worldwide, thanks to continuous innovation and exceptional support. WinCan™ transforms raw inspection data into the intelligence municipalities and contractors need to make critical maintenance decisions. The software's measurement tools help quantify defects, and sophisticated search capabilities filter observations by any combination of criteria. Its report generator automatically summarizes inspection findings using a standard or user-defined template. Native support for GIS mapping, side-scanning and 3D are among WinCan's™ most innovative features.
About Pipeline Analytics.
WinCan™ pipe inspection and asset management software is supported and distributed in the Americas exclusively by Pipeline Analytics. As the only WinCan™-certified software consultancy, Pipeline Analytics™ is uniquely positioned to deliver support, training, customization and integration with all common municipal databases and mapping software programs. Pipeline Analytics™ works directly with end users, and also with inspection equipment manufacturers, helping them deliver integrated hardware/software solutions that allow their customers to document, analyze and report pipeline condition. Visit Pipeline Analytics™ online at http://www.pipelineanalytics.com
About WRc.
"WRc Approved" is a certification scheme which provides an independent technical view on whether a product is fit to do the job for which it is claimed, or a contractor is fit to provide a specified service. WRc Approved certification demonstrates to purchasers that a product is fit for purpose. This saves the end-user having to validate claims regarding product/service performance. The assessment can be against an existing standard or, for novel products, WRc can use its extensive knowledge of the UK and international water Industry to develop appropriate requirements. WRc Approved certification is of value to both UK and international companies; current approvals include products from Australia, Austria, France, Germany, Holland, Japan, New Zealand, UK and USA.