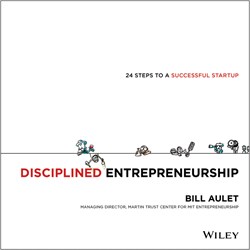 While I am not a big fan of business plans, I am a big fan of the business planning process. This book provides an invaluable comprehensive framework for innovation-driven entrepreneurs to execute the business planning process.
-Brad Feld
Hoboken, NJ (PRWEB) August 14, 2013
Many believe entrepreneurship cannot be taught, and that those who are successful in starting a business are born with something others do not have. Bill Aulet dismisses that myth among other misconceptions in the new book, Disciplined Entrepreneurship: 24 Steps to a Successful Startup (Wiley; ISBN: 978-1-118-69228-8; August 2013; $32; Hardcover & E-Book).
As Managing Director at the Martin Trust Center for MIT Entrepreneurship, Bill Aulet shows how innovation-driven entrepreneurship can be broken down into discreet behaviors and processes which can be taught to any intelligent, hardworking person. Aulet shares his inspiration, "This book comes out of my workshops around the world and MIT courses where I built and refined this approach over years with hundreds of great entrepreneurs."
Disciplined Entrepreneurship will change the way people think about entrepreneurship. Aulet presents an easy to understand framework that is both comprehensive and integrated with a proven step-by-step approach to founding a company by creating an innovative, highly successful product.
Designed as an integrated toolbox for first-time and serial entrepreneurs, this 24-step guide is useful to bring products more efficiently to market. Readers will also discover how to:

Create valuable specificity by focusing on one market opportunity that can be dominated
Quantify the unique value one brings to a target customer – and how to translate that value into profit
Overcome common obstacles in getting products adopted by customers
Design and build products in the most efficient way possible
Aulet believes, "The world needs more and better entrepreneurs because our world's problems are becoming more dire, complex, and ubiquitous." His hope is that Disciplined Entrepreneurship gives readers a framework as well as tools to improve the odds of making a product that consumers want in a sustainable manner.
About the Author:
Bill Aulet (Cambridge, MA) is the managing director of the Martin Trust Center for MIT Entrepreneurship as well as a senior lecturer at the MIT Sloan School of Management. Prior to joining MIT, he had a 25-year track record of success in business, from his start at IBM to his experience as a serial entrepreneur.
He started and ran Cambridge Decision Dynamics and SensAble Technologies. He works around the world with entrepreneurs, small companies, large companies, and governments to promote innovation-driven entrepreneurship.
For more information, visit http://www.disciplinedentrepreneurship.com/.
To schedule an interview with Bill Aulet, contact:
Heather Condon, Publicist – WILEY hcondon(at)wiley(dot)com – 201-748-6017 or,
Patricia Favreau, Associate Director - Office of Media Relations, MIT Sloan School of Management
pfavreau(at)mit(dot)edu - 617-253-3492