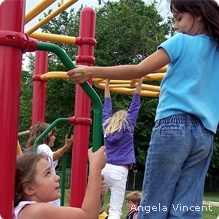 National Wildlife Federation has developed several programs to get kids outside and connected to nature at school
Reston, VA (PRWEB) August 15, 2013
In the coming weeks, parents and children across the country will prepare for the return to school: supplies will be purchased, outfits will be picked out and end-of-summer vacations will be taken. Sadly, for many kids, the return to school also means an abrupt end to outdoor fun. Whereas summer break is synonymous with camping trips, backyard adventures, water activities and outdoor barbeques, school time can mean hours spent indoors, sitting at a desk, under bad fluorescent lighting.
To help bring balance to the lives of school kids (and improve their learning abilities at the same time), National Wildlife Federation has developed several programs to get kids outside and connected to nature at school. These programs get hundreds of thousands of kids outdoors on a regular basis each year, helping NWF meet its goal of getting 10 million kids outdoors on a regular basis by 2015.
1. NWF Eco-Schools USA
NWF's Eco-Schools USA is a hands-on learning program that rewards students and educators for "greening" their school by integrating sustainable practices and principles into their school and curriculum. As part of the program, kids take part in all kinds of fun and educational activities outside the classroom, like conducting an audit of their school, creating a recycling or composting program, planting a food garden, or creating a rainwater collection system. Through these activities, kids not only learn about their connection to the natural world, they get a break from the classroom and a chance to get a little dirty. Add in the benefits to schools like saving big bucks on energy costs, and you can see why more than 2500 schools have signed up to be an Eco-School in the U.S.
To learn more and find out how to register your school, check out this video or visit http://www.nwf.org/Eco-Schools-USA
2. NWF Ranger Rick Magazine and Educator's Guide
National Wildlife Federation staff are pros at connecting kids to incredible wildlife experiences through the pages of the award-winning publications, Ranger Rick and Ranger Rick Jr. These fun-filled magazines include activities, simple stories and wild animals that young readers love. The more than 7500 schools and educators across the country who currently subscribe to Ranger Rick magazine also get a free education guide with each issue. The Ranger Rick Educator's Guide helps teachers and parents delve deeper into every issue of Ranger Rick with activity ideas and student pages, and helps bring a bit of the outdoors inside for kids in the classroom. See the August 2013 educator guide for a sample.
To purchase a subscription for the kid(s) in your life, or to gift one to your school, visit: http://www.nwf.org/BuyRangerRick
3. NWF Schoolyard Habitats
As the nation's largest school gardening program, Schoolyard Habitats® engage today's children to practice healthy living and learning in an outdoor setting. National Wildlife Federation works with teachers, administrators, and community members to assist schools in creating and using their outdoor landscapes as interactive learning classrooms. Designed to both increase student academic performance through hands-on learning, the gardens also nurture children's innate curiosity and creativity. The process of planning, building and maintaining a schoolyard habitat provides a wide range of benefits, including:

Increasing student comprehension, performance and motivation;
Providing a local site for teachers for interdisciplinary studies;
Creating more opportunities and resources for creative instruction;
Reducing costs for school grounds upkeep and maintenance; and
Restoring habitat that gives local wildlife food, water, cover and places to raise their offspring
Learn more at: http://www.nwf.org/schoolyardhabitats
4. NWF Ranger Rick Restores Recess Campaign
As many as thirty percent of elementary schools—nine million kids—do not have daily school recess. School recess can be a gateway experience to nature and should be a part of every elementary student's daily routine, giving them an opportunity to go outside, play, see the sky, feel the sun, and watch for birds. Kids who have daily recess are more attentive in class and get more physical activity.
National Wildlife Federation and Ranger Rick want to bring daily recess back to America's schoolyards. Parents can play a particularly important role by being strong advocates for recess at their children's school. They can start by conducting a recess policy audit to evaluate a school's current policy. NWF offers a variety of helpful recess-related tools and other resources at http://www.nwf.org/recess
Educators, parents, grandparents or engaged members of the community can help bring these programs to schools. Visit http://www.nwf.org/education for more information about these and other great programs.
National Wildlife Federation is America's largest conservation organization, inspiring Americans to protect wildlife for our children's future.
###