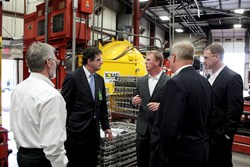 Souderton, Pa. (PRWEB) August 13, 2013
As part of Congressman Fitzpatrick's plan to visit 50 organizations in 50 days during the U. S. Congress summer break, the Congressman spoke to over 30 of the management teams for Solar Atmospheres Inc. our metallurgical heat treating plant and Solar Manufacturing Inc. our vacuum furnace manufacturing plant. Following his 30 minute formal presentation on important events coming before Congress near term, he toured both our manufacturing plants. Congressman took questions from our management teams and also listened to management and employee concerns covering another 45 minute plant tour, according to William R. Jones, CEO.
ABOUT SOLAR ATMOSPHERES INC.
The Solar Atmospheres group of companies consists of five different companies that are privately owned: Solar Atmospheres, Solar Atmospheres of Western PA, Solar Atmospheres of California, Solar Manufacturing and Magnetic Specialties. From vacuum heat treating to building vacuum furnaces and electric components, their joint mission is to add significant value to their customer's operations.