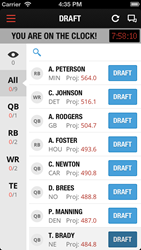 "Innovation is the key to the growth of Fantasy Football and Fanium has done their part with one of the most unique draft applications available." - Mike Clay, Head of Pro Football Focus Fantasy and Writer for NBC-Rotoworld
San Diego, CA (PRWEB) August 14, 2013
Fanium is proud to announce the launch of Fanium Fantasy Football, the first 100% mobile seasonal fantasy football game, free of charge, in the iTunes App Store and Google Play. In its first few days, the app has been downloaded by thousands of users, and has received all five-star ratings from iOS users.
Fanium is the brainchild of CEO Grant Gurtin, who began developing the app with a group of Brown University students while still in school. "As a huge fantasy football fan, I realized that none of the major fantasy sports companies had really made changes to their games in the past 15 years," Gurtin said. "They were stuck in the past. Therefore, I decided to develop an app that propelled fantasy football into the mobile age; one that is easy and intuitive for new players, and engaging for more experienced ones."
Fanium's free app provides up-to-the-second Twitter updates from beat writers and fantasy experts, a mobile draft that runs based on push notifications, and avatars that can be unlocked for reaching various benchmarks. Fantasy experts have praised Fanium, noting its unique scoring system and its accessibility to new users. Mike Clay, who runs Pro Football Focus' fantasy department and writes for NBC Rotoworld, said, "Innovation is the key to the growth of Fantasy Football and Fanium has done their part with one of the most unique draft applications available." Josh Collachi, a fantasy football analyst at Pro Football Focus, called Fanium's technology "groundbreaking." Peter Pezaris, the man who created online fantasy football, has called Fanium "the future of fantasy sports" and due to this strong belief recently joined the company as an advisor.
Fanium is now available as a free app in the iTunes App Store and Google Play.
If you have any questions or want to schedule press opportunities, you can contact Ethan Hammerman, Fanium's VP of Marketing, by phone or by email.
About Fanium:
Fanium was founded by Grant Gurtin in 2011, while he was a junior at Brown University. Gurtin attended La Jolla Country Day School and is a La Jolla resident. Fanium is a sports technology company that develops fantasy sports applications for mobile devices. Since its inception, Fanium has developed a suite of apps that has evolved the way that people consume their sports and fantasy content. By aggregating expert Twitter accounts and creating a unique keyword search technology, Fanium has sought to use social media advances as a key component of its products, and maintains a forward-thinking philosophy when it comes to attacking the mobile space.