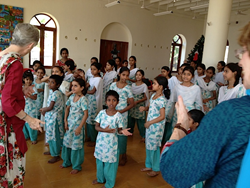 "If our Love Peace Harmony Movement can bring about change in one of the most horrific poverty situations, imagine what it can do for everyone else in the world." - Master Marilyn
San Francisco, CA (PRWEB) August 14, 2013
New York Times bestselling author and founder of Soul Mind Body medicine, Master Zhi Gang Sha, is leading a cause to raise money to help the Anganwadi School teachers of Mumbai, India. On Friday, September 13 at 7:00pm-10:00pm, Master Sha offers a dynamic Soul Healing Evening located at the Marriott Union Square, 480 Sutter Street in San Francisco, California. The $15 donation fees collected during this event will go directly to helping 30 Anganwadi teachers continue to spread the Love Peace Harmony Movement to children and families living in poverty in Mumbai, India this year. For more information about the Anganwadi Teachers and the extraordinary results that this movement has started, go to: https://www.facebook.com/notes/dr-and-master-sha/bringing-love-peace-harmony-to-india-a-message-of-hope-and-transformation/10151952057360620
Proceeds from ticket sales for Master Sha's Soul Healing Evening will benefit the Anganwadi teachers and volunteers who work in the most dire and dangerous slums in Mumbai, India. Three years ago, Master Sha's Worldwide Representatives, Master Patricia Smith and Master Marilyn, taught the "Love, Peace & Harmony" soul song and Master Sha's "Forgiveness Practice" to two Anganwadi teachers in the Chitah Camp of Mumbai, India. Those women then taught their students and their families Master Sha's song and practices. Almost instantly, the teachers saw huge changes in the health, wellness, and the behavior of their students. News of these changes spread through the Anganwadi teaching community and now 30 other teachers want to include Master Sha's Love Peace & Harmony soul song and the Forgiveness Practice in their classrooms and in turn teach more than 12,000 students and their families to include these practices in their homes.
"The teachers, families and children of Mumbai live in the most heartbreaking conditions of poverty filled with rampant domestic abuse, unsanitary conditions, constant illness, and hunger," says Master Patricia Smith. "When the Anganwadi teachers began singing the Love, Peace & Harmony song with their students, together they were able to change the frequency of their environment for the better. Then when the teachers began seeing changes in their students and their family lives, they knew that more teachers needed to use these techniques in their classrooms and the good news began to spread. This is why it is so important to raise money so that that all the teachers can institute this movement with their students."
The Anganwadi teachers are part of a national nutrition program started by the Indian government to help combat child hunger and malnutrition. These teachers also counsel families dealing with domestic abuse; help residents learn how eat better; educate families to prevent major illness caused by poor hygiene, contaminated water and food; plus ensure that children are immunized and cared for properly. Since Masters Patricia and Marilyn brought the Love Peace Harmony Movement and the Forgiveness Practice to the Anganwadi school teachers, they've witnessed domestic violence, especially against women and children, and illness decline in the camp. In addition, health and school performance have improved.
"It's a beautiful thing to hear 4 and 5 year olds singing about love and peace in their classrooms, and then actually seeing the direct relationship to how these practices have changed their environment," says Master Marilyn. "If our Love Peace Harmony Movement can bring about change in one of the most horrific poverty situations, imagine what it can do for everyone else in the world."
During this dynamic and uplifting Soul Healing Evening and Benefit, Master Sha will offer powerful soul wisdom teachings and Divine Soul Healings to those in attendance. Part of his life's mission is to empower people to heal themselves, to heal others and to help heal the world. Master Sha will share highly effective, yet simple self- healing practices to transform health, relationships, finances, and any aspect of life. Known for his spontaneity, joy and compassion, Master Sha often select audience members to receive advanced Soul Healing blessings.
For more information about the Soul Healing Evening event, go to: to http://www.DrSha.com or call Master Sha's Soul Power Center in San Francisco: 415.971.7373.
Master Sha has personally trained and selected Master Patricia Smith and Master Marilyn as his Worldwide Representatives to lead and serve the community in various parts of the world, but most recently in Mumbai, India. Master Patricia is a Worldwide Representative of Master Sha and Certified Divine Direct Soul Communicator. As a Worldwide Representative and Disciple of Master Sha, Master Patricia shares what she has learned about forgiveness, which is sometimes very painful, but it includes stories of breakthroughs and healing. Master Patricia lead the charge in bringing the Forgiveness Practice and the Love Peace Harmony Movement to the slums of Mumbai, India. She has dedicated her life to continuing her healing and teaching others how to heal on all levels. Master Marilyn is one of the first Worldwide Representatives and Disciples of Master Zhi Gang Sha, world renowned healer, soul leader, and a Divine Channel. She is one of the top teachers and soul communicators in the Institute of Soul Healing and Enlightenment. She is the leader of the Love Peace Harmony Movement worldwide. Her passion for having humanity and Mother Earth benefit by having people singing the soul song Love, Peace & Harmony worldwide has results in having thousands in 24 countries join this movement.
Master Zhi Gang Sha is the soul leader, a world-renowned master healer, and a divine servant. He is the founder of Soul Mind Body medicine. He was trained as a conventional medical doctor and a doctor of traditional Chinese medicine. The founder of the Institute of Soul Healing and Enlightenment™ and the Love Peace Harmony Movement™, Master Sha is a grandmaster of many ancient disciplines, including tai chi, qigong, feng shui, and the I Ching. Master Sha is also an expert in the most advanced cellular healing science now occurring in China. In the West, he is involved in breakthrough research on the effects of spirit on the human system. Dr. Sha was named Qigong Master of the Year at the Fifth World Congress on Qigong. In 2006, he was honored with the prestigious Martin Luther King, Jr. Commemorative Commission Award for his humanitarian efforts.
Dr. and Master Zhi Gang Sha has close to 100,000 followers on Facebook and more than 200,000 devotees worldwide. There are more than 1,000 Soul Healing miracle videos posted on Dr. and Master Sha's YouTube Channel (http://www.youtube.com/zhigangsha ), with over 1.1 million views. Everyday people all over the world are experiencing personal Soul Healing miracles and sharing their video testimonials so that others can benefit from these powerful and life-changing results.
Master Sha is author of more than 10 books published by Simon & Schuster (Atria Imprint), Dr. Sha's most recent New York Times bestselling book, Divine Healing Hands (September, 2012) topped national bestseller lists within 24 hours of publication and his 2011 book, Tao Song & Tao Dance was also a New York Times bestseller. All of Dr. Sha's Soul Power books, DVDs and CDs, reveal soul secrets, wisdom, knowledge and practical techniques to transform every aspect of life, and are bestsellers throughout the world. Visit Dr. Sha on his website http://www.DrSha.com and receive FREE daily Divine Healing Hands blessings via webcasts, teleconferences and in-person at events held throughout the world. You can also Like Master Sha's page at http://www.facebook.com/DrandMasterSha.
For more information about the Soul Healing Evening benefit in San Francisco, or to interview Master Zhi Gang Sha or Masters Patricia and Marilyn, please contact: Darcie Rowan, Darcie(at)DarcieRowanPR(dot)com