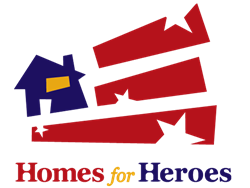 Jacksonville, FL (PRWEB) August 14, 2013
This Friday's episode of "First Coast Living," a popular Jacksonville-based morning show and part of WTLV's First Coast News, will be the television debut of Keller Williams Jacksonville agent CC Underwood. The segment will highlight the Homes for Heroes organization, of which Underwood is one of only a handful of affiliates in Northeast Florida. Homes for Heroes, which is nationwide and has given back nearly $3 million to home buyers and sellers, hopes to spread the word to the Jacksonville community and the thousands of people which could possibly benefit from the program. Underwood also hopes to be a recurring guest on the "Today Show"-style show, offering tips on buying and selling homes as well as other real estate-related advice.
First Coast Living airs weekdays at 11am and at 2pm on WTLV Channel 12. Check them out online at http://www.firstcoastnews.com/firstcoastliving. For more information on the Homes for Heroes program, visit them online at http://jacksonvillehomesforheroes.com/
Media Inquiries can be directed to Robert Eleazer at 904.828.9788 or via email at rseleazer(at)gmail(dot)com.