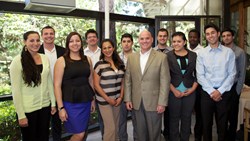 San Diego, CA (PRWEB) August 14, 2013
LPL Financial LLC, the nation's largest independent broker-dealer, a leading RIA custodian, and a wholly owned subsidiary of LPL Financial Holdings Inc. (NASDAQ: LPLA), today announced the completion of its first national internship program, Lift People Locally, in partnership with the LPL Financial Foundation. The internship program is aimed at helping the three local communities LPL Financial serves: San Diego, California, Charlotte, North Carolina and Boston, Massachusetts.
The 12-week paid summer internships were offered to twenty students affiliated with LPL Financial's charitable partners and provided them with a rich workplace experience, practical knowledge and executive mentors. The students were placed in a variety of departments including Technology, Finance, Accounting, Legal, Institution Services and Talent Development.
"It has always been intrinsic to the LPL Financial mission to give back and support local communities," said Victor Fetter, Managing Director and Chief Information Officer at LPL Financial, and executive sponsor of the Lift People Locally internship program. "This is a journey of discovery for the students, to get them to learn new skills and identify the skills they are good at. This internship program is all about the diversity of experience; it gives us exposure to students with a variety of skill levels and we can help them identify their future jobs. The program helps the community thrive, and that helps to build an ecosystem where we can partner."
"I never expected this opportunity," said Jasmin Mino, a San Diego-based student at California State University San Marcos (CSUSM). "I grew up in the foster care system and it was hard for me to imagine going to college and getting an internship. I know I can do better now because of this opportunity at LPL Financial. This gives me a clearer direction of where I want to take my life."
"The CSUSM/LPL Summer Internship program rounds out our holistic approach to educating students, combining the strong academic foundation found in our curriculum with professional experiences that complement their classroom work," said Jim Mickelson, director of ACE Scholar Services at California State University San Marcos. "The mentoring component is particularly meaningful because most former foster youth are often the first in their families to attend college and haven't been exposed to the cultural and social events found in the professional world."
Steve Reneau Jr., a student at Johnson C. Smith University (JCSU) in Charlotte said of his Lift People Locally experience, "They say it's not about 'what you know' but 'who you know,' and being at LPL Financial I have really met some wonderful people that truly care about my life. They have opened doors for me and filled me with lots of positive advice. I'm one step forward."
"We want to thank LPL Financial for this tremendous opportunity. This program is opening doors for our young people, who haven't had many doors open for them," said Pat Newell, Director of Johnson C. Smith University's Foster Care Initiative. "Thanks to this internship program, these students were offered a hand up, not a hand out. 'Lift People Locally' is a perfect name for this summer internship program because LPL Financial really did lift our students this summer in so many countless ways."
In San Diego, college students were chosen through the ACE Scholars Program offered by California State San Marcos. In Charlotte, college students were selected from the Johnson C. Smith Foster Care Initiative. In Boston, high school students were sourced through the Boston Bar Association Summer Jobs Program.
About LPL Financial
LPL Financial, a wholly owned subsidiary of LPL Financial Holdings Inc. (NASDAQ: LPLA), is the nation's largest independent broker-dealer (based on total revenues, Financial Planning magazine, June 1996-2013), a top RIA custodian,* and a leading independent consultant to retirement plans. LPL Financial offers proprietary technology, comprehensive clearing and compliance services, practice management programs and training, and independent research to more than13,400 financial advisors and approximately 700 financial institutions. In addition, LPL Financial supports more than 4,600 financial advisors licensed with insurance companies by providing customized clearing, advisory platforms and technology solutions. LPL Financial and its affiliates have approximately 3,000 employees with primary offices in Boston, Charlotte, and San Diego. For more information, please visit http://www.lpl.com
Securities and Advisory Services offered through LPL Financial. A Registered Investment Advisor, Member FINRA/SIPC
*Cerulli Associates: RIA Service Agent Survey Q1 2013
# # #
Connect with Us!
https://twitter.com/lplfinancial
https://www.linkedin.com/company/5294
https://www.facebook.com/LPLFinancialLLC
http://www.youtube.com/user/lplfinancialllc
Listen to us on Blog Talk Radio
LPLA-C
LPL Financial Media Contact
Tony Vignieri
(858) 909-6698
tony.vignieri(at)lpl(dot)com