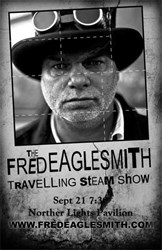 The HIke Haliburton Festival has something for everyone. Just the right mix of nature and entertainment, an unforgettable weekend.
Haliburton, Ontario, Canada (PRWEB) August 15, 2013
The Hike Haliburton Festival is a signature event of the Haliburton Highlands, Ontario, Canada. It is back for its 11th year and this year promises to be even more amazing with the addition of new and exciting hikes as well as a concert by Fred Eaglesmith. Yes, that is right Fredheads, the Eaglesmith Travelling Steam Show will be the evening entertainment on the weekend of the Hike Haliburton Festival on Saturday, September 21st.
The hiking festival offers participants over 50 hikes that are varied in length, difficulty level and theme. For example, there is a walk titled, "Focus on Fall," that is designed for people who are interested in enhancing their photographic skills with instruction from professional photographer Corey Pietryszyn. The "canvas" for the instruction is the Minden Wild Water Preserve which is also the facility selected by the 2015 Pan Am Games for its white water activities.
If photography is not of interest, then how about learning about edible plants in the local forest by taking the Edible Wild Walk? Participants will explore the trails of Snowden Park to discover wild plants that can be eaten or used for medicinal purposes. Or if Sumac is more of an interest, try the "In Search of Sumac and Other Wild Edibles" and consider taking the workshop (additional cost) afterwards to learn 5 recipes that utilize Sumac.
If neither of these options excite the reader, then how about a ghost tour, a historical tour, an introduction to the night forest, or a geocaching expedition? The list of possibilities goes on and on. Take a look at the attached documents for more detail on the festival program and highlights.
A day of nature would not be complete without some exciting evening entertainment, and Fred Eaglesmith will deliver on that requirement with his Travelling Steam Show. It is important to note that sales are expected to be brusque for this show as there are many "Fredheads" who follow the show faithfully. So buy tickets early so as not to be disappointed as seating is limited.