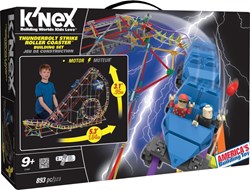 Hatfield, PA (PRWEB) August 14, 2013
K'NEX Brands, the US construction toy company focused on Building Worlds Kids Love ®, is pleased to introduce four new roller coasters to its hugely popular Thrill Ride line of building sets. Sure to spark creativity, these K'NEX coaster building sets offer explosive fun for builders ages 9+, and include American made rods and connectors.
K'NEX Thrill Ride building sets have been a favorite among fans since the line was introduced in 1992 and appeal to builders of all ages. K'NEX has dominated this part of the market for over 20 years by continuing to offer the most exciting designs and features in roller coaster building sets, including glow-in-the-dark track which is being featured for the first time in the 2013 line.
Phoenix Fury Coaster™ Building Set
Spiral and soar through over 20 feet of expansive track with the Phoenix Fury Coaster from K'NEX. With over 620 pieces, including track, a roller coaster car, American made K'NEX rods and connectors, and the cool motorized chain lift, you can build an authentic-style roller coaster that spans over 3.5 feet in length. Color coded instructions help you build this monstrous creation, and alternate model instructions are available for download on knex.com. Suggested retail price $49.99. Ages 9+. Available now.
Supernova Blast Coaster™ Building Set
Build a glow-in-the-dark, gravity defying, spiraling roller coaster with blasting-motor performance. Clocking in at over 3 feet tall and featuring flexi-rods, the Supernova Blast Coaster is "explosive" building fun for every K'NEX fan. Including over 800 K'NEX pieces and a special motorized blaster that launches the coaster car into its exciting journey around the track, the set also features a building idea for a second coaster model. Suggested retail price $69.99. Ages 9+. Available Now.
In response to last year's wildly successful launch of the Son of Serpent Coaster™ building set, the first coaster in 10 years to be made up entirely of all classic rods and connectors, K'NEX is thrilled to expand its roller coaster line with 2 new exciting, all-classic coasters.
Thunderbolt Strike Roller Coaster™ Building Set
Fasten your seatbelts! The Thunderbolt Strike coaster set includes over 800 fan-requested, American made, classic K'NEX rods, connectors, cross-ties, and tube-track for lightning striking fun. The set also includes a motor, vertical chain lift, 2 cars, 2 fully articulated K'NEXmen™ figures and comes packaged in an iconic K'NEX suitcase. Suggested retail price $119.99. Ages 9+. Available Now.
Sorcerer's Eclipse Roller Coaster™ Building Set
Build a classic K'NEX coaster just like you remember, soaring over 4 feet high and stretching over 6 feet in length. Loaded with over 1,000 classic K'NEX rods, connectors, cross-ties and over 25 feet of original tube-track, the Sorcerer's Eclipse coaster is guaranteed to cast a spell over you. Set also features a motor, vertical chain lift, 3 cars and fully articulated K'NEXmen figures. Suggested retail price $249.99. Ages 12+. Available Now.
The new K'NEX Thrill Ride building sets will be available on knex.com and at toy retailers nationwide.
About K'NEX Brands
Founded in 1992, K'NEX Brands, the world's most innovative construction toy company, was established to make and sell what has become one of the world's leading integrated construction systems for children and is America's STEM building solution. Winner of over 250 international awards and recognitions, K'NEX, America's building toy company, is focused on Building Worlds Kids Love and encourages youngsters to "imagine, build and play." From the living room to the classroom, K'NEX has building toys specially designed for every age group and skill level. The K'NEX family of brands includes K'NEX Building Sets, K'NEX Thrill Rides, K'NEX Education, Lincoln Logs®, Tinkertoy®, NASCAR®, Angry Birds™, Mario Kart Wii™, Mario Kart 7™, Super Mario™, PacMan™ and more. Since 1992, The Rodon Group, a subsidiary of K'NEX Brands, L.P., has manufactured over 31 billion parts for the K'NEX building toy system. Join us as we help build the leaders of tomorrow. For more information, please visit http://www.knex.com or http://www.rodongroup.com.