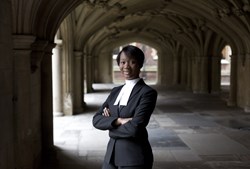 Los Angeles, CA (PRWEB) August 15, 2013
Most teens spend their summer vacations sitting by the pool or heading to their favorite beach. On July 30, 2013, Florida native Gabrielle Turnquest was called to the bar through the Honourable Society of Lincoln's Inn, making her the youngest person to ever pass the bar exam in England. After passing the Graduate Diploma in Law at age 17, the American prodigy went on to undertake the University of Law's Bar Professional Training Course. She was eligible to do so due to her parents' Bahamian heritage.
This fall, Gabrielle will return to the U.S. to sit the multistate bar and study Apparel Industry Management at FIDM/Fashion Institute of Design & Merchandising. She hopes to become an international fashion law expert. "Studying at the University of Law has broadened my horizons and introduced me to a global legal system that will help me in my future career in the international fashion industry," she said in a statement. Gabrielle graduated from Liberty University in Virginia at age 16, with a degree in psychology, becoming the youngest alumna from that institution.
The teen's story hit the international news quickly, with profiles in the U.K.'s Daily Mail and The Guardian, and on MSN, Huffington Post, and countless others. "I am honored to be the youngest person to pass the Bar exams but, really, I was not aware at the time what the average age was," she told The Telegraph. "I didn't fully realize the impact of it."
FIDM/Fashion Institute of Design & Merchandising is a co-educational, specialized, private college dedicated to educating students for the Fashion, Graphics, Interior Design, and Entertainment industries. Known as a one of the top fashion design schools, FIDM is also a leading graphic design school and digital media college. Visit fidm.edu for more information.