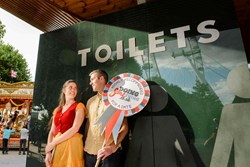 Nothing would be more awkward than having a first date in a toilet.....until now. - Matt Janes Founder of DoingSomething.co.uk
London (PRWEB UK) 14 August 2013
Never one to pooh-pooh the opportunity for a new date idea, innovative dating site DoingSomething.co.uk, today launches Toilet Dating - a new singles event designed to leave daters feeling flushed.
DoingSomething has teamed up with London Loo Tours to host a one-of-a-kind pub-crawl with a 'crappy' twist. The new dating experience is currently being piloted in London throughout August, with plans to roll it out nationwide later this year. Those keen to take part can book onto Toilet Dating for free via DoingSomething.co.uk – it will be taking place the first Friday of every month.
The tour has been created for 'potty' daters who want to experience something different. Singletons are led on a bar crawl around London's Westminster with stops at toilets of historical note along the way. As well as toilet puns galore, the evening contains tips and tricks for locating free public loos in London, the history of the toilet from pre-Roman times to the present, and the surprisingly intense politics of the public toilet.
Toilet Dating encourages singletons to share their own dating stories – toilet related or not – as a way of getting to know each other and flush away memories of bad dates.
Matt Janes, founder of DoingSomething.co.uk, comments: "Nothing would be more awkward than having a first date in a toilet… until now. We've given the London loo scene the ultimate DoingSomething.co.uk makeover and are encouraging Londoners to not be down in the dumps and try this new dating experience. Worst result, the daters will have to indulge in some crap chat, but the experience won't be one they'll forget in a hurry."
The tour starts at The Jubiloo (reputedly pay-per-use loo in London), then goes on to The Cellar Door (a cabaret bar set in a toilet). Afterwards, the singletons frequent a few more watering holes en route, and even take a pit stop at the toilets of St Paul's – 'the beacon of free toileting'.