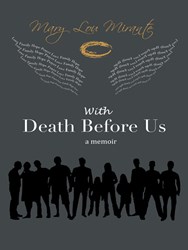 Everyone needs support, and it's important to remember that miracles can happen.
Bloomingdale, Illinois (PRWEB) August 15, 2013
There is no particular method to prepare for dealing with a difficult diagnosis, especially when facing the uncertainties of cancer. Mary Lou Mirante understands this, and shares her experiences in her new memoir, With Death Before Us.
In With Death Before Us, Mary Lou Mirante details the personal journey of her family's sorrow, strength and spirituality during her husband's battle with cancer. With day-by-day – and even moment-by-moment – accounts, Mirante's story details the experience of doctor visits, emotional ups and downs, and the need for strong family support.
Set in Elmhurst, Illinois, this memoir follows the family's journey through multiple devastating diagnoses, twists and turns of battling the illness and the many miracles they witnessed. Mirante's husband was diagnosed with lung cancer three years in a row during Christmas time, and the pain and uncertainty that followed required the family to rely on each other and spirituality for support.
"My hope is that our story will be able to help others cope with the struggles of cancer, loss and the unknown," said Mirante. "During difficult times, everyone needs support, and it's important to remember that miracles can happen."
With Death Before Us highlights the importance of perseverance, a positive attitude, close family ties and deep spirituality.
For more information, please visit bookstore.authorhouse.com.
With Death Before Us
By: Mary Lou Mirante
Hardcover: $31.99
Paperback: $23.95
E-Book: $9.99
ISBN: 9781477284285
Available at bookstore.authorhouse.com, amazon.com and barnesandnoble.com.
About the author
Mary Lou Mirante spent 12 years writing this book, and she wrote the book in Maui, Hawaii, where she ultimately lost her husband. She recently fought her own battle with cancer, and maintains the strong ties with her family and spirituality. With 43 years of marriage to her beloved husband, Mirante is a dedicated mother to her children and grandchildren. She currently lives in Bloomingdale, Illinois, a suburb of Chicago.
# # #