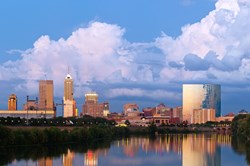 The more innovative ideas we come up with, the more affordable options we can devise for our clients.
Indianapolis, IN (PRWEB) August 19, 2013
Greenbee Parking, a new yet fast growing player in the airport parking industry, has announced a strategic partnership with Quality Inn & Suites at Indianapolis Airport. The partnership has opened up even newer parking options for Greenbee customers who have already benefited from the innovative offers introduced by the company from time to time. Those who want to avoid the mad rush hour traffic and airport rush as well as prefer more secure locations for their vehicles all have reason to rejoice. Now, they can simply drive into the Quality Inn & Suites parking lot after booking online with Greenbee and park their cars there. Next, they take the shuttle to the Indianapolis (IND) airport in peace. Because they have booked the space through Greenbee Parking, there is no need to book a room at the hotel either. Contrary to common belief, booking a room with a service provider rather than directly at the airport does not mean more expense. In fact, booking a secure space through Greenbee Parking means more savings on parking fees than one could ever hope to have with the regular Indianapolis airport parking rates.
"We are constantly exploring new ways to serve our customers," said Christine Cooper – Marketing Coordinator, Greenbee Parking. "The more innovative ideas we come up with, the more affordable options we can devise for our clients. Our partnership with Quality Inn & Suites will allow us to provide those comfortable options and secure parking space at very affordable Indianapolis airport parking rates."
Indianapolis International Airport Parking Information
Indianapolis is the 13th largest city in the US and one of the fastest growing metropolises as well. It has been known for its industry for decades and even today has a more diversified economy than many other metros, with businesses spreading from education, finance, healthcare to technology. Sports is big news here and has many die-hards flocking to the city during the Super Bowl season. This, along with a healthy tourist flow, keeps the Indianapolis (IND) airport very busy. Indianapolis International Airport is located very strategically close to the happening Indianapolis downtown and the major state highways, which further contribute to the heavy volume of business travel. Tourism is a thriving business which means that leisure travel is also high here. It is the 22nd busiest airport in the world in terms of cargo traffic and the eighth largest cargo center in the country. Of course, being the second largest hub for FedEx in the world definitely contributes to these statistics.
With such a high volume of air and ground traffic, finding a parking space has been quite an issue here. But the varied offers from Greenbee Parking along with their partnership with Quality Inn & Suites has now made it possible to easily secure a space and at rates much lower than the usual Indianapolis airport parking rates.
The Greenbee Airport Parking Solution
Greenbeeparking.com is the connection between consumers and parking vacancies in close proximity to major airports and seaports. The parking spaces are very affordable because the company has negotiated discounted rates with major hotel chains for the parking spaces that are not currently occupied. Here's how it works.
Greenbee Parking puts the available inventory of parking spaces on their website to be reserved by business and leisure travelers looking for cheap airport parking. This alternative method for finding parking equates to significant savings for the traveler. These savings are sometimes as much as 75% less than parking at the airport or seaport.
About Greenbee Parking
Greenbee Parking is the nation's most innovative long term parking company, with a new way of making long term parking affordable. The company is rapidly adding new airports to its network. Visit us today to book your discounted parking spot in Indianapolis.