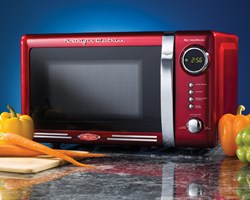 "Microwaves are common, but Nostalgia microwaves are distinctive. This new unit is small but still stands out."
Green Bay, Wisconsin (PRWEB) August 14, 2013
Stylish space savers rejoice! Nostalgia Electrics has released a new, smaller addition to its line of popular and trend-setting microwaves. At just .7 cubic feet, Nostalgia's new '50s-Style .7 Cu. Ft. Microwave Oven is perfect for small spaces such as dorms or trailers, or for consumers looking for a discreet way to heat their food.
What the '50s-Style .7 Cu. Ft. Microwave Oven lacks in size it makes up for in style. Like its predecessors, the unit has '50s flair with glossy red paint and silver chrome detailing. It also boasts an easy-to-read LED display, 700 watts of power and a glass carousel that helps cook food evenly. With a convenient cord wrap and a dial that lets consumers select from 12 pre-programmed settings, plenty of convenience is packed in its small frame.
"Whether it's for a cramped dorm room, a down-sized empty nest or an addition to the office break room, fall is often the perfect time for new appliances," Karilyn Robinson, Marketing Communications Specialist for Nostalgia Products Group says. "The small, stylish design of this unit is a practical choice for a small space with a pop or color."
Nostalgia Electrics' full-size microwaves are currently sold in red and in black, with previous colors including popular blue, jadeite and white models. The '50s-Style .7 Cu. Ft. Microwave Oven will initially be available in retro red, with possible alternate colors in the future.
"The brightly colored microwaves have a vocal fan base, and we're looking forward to the different, creative ways we can present this standard appliance," Robinson says. "We're seeing a lot of appliances from other companies that are clearly influenced by our Retro Series. Microwaves are common, but Nostalgia microwaves are distinctive. This new unit is small but still stands out."
The '50s-Style .7 Cu. Ft. Microwave Oven will be available at online and in-store, with a base retail price of $79.99.
'50s-Style .7 Cu. Ft. Microwave Oven (RMO770RED) Product Features:

12 pre-programmed settings
Deluxe chrome detailing
Distinctive retro red coloring
Small size, big functionality
Convenient cord wrap
The RMO770RED by Nostalgia Electrics is distributed by:
Nostalgia Products Group, LLC
1471 Partnership Dr.
Green Bay, WI 54304-5685
About Nostalgia Products Group, LLC:
Nostalgia Products Group, LLC, designs, manufactures and markets the Nostalgia Electrics brand of small electric appliances, a wide range of innovative products with a history of exciting consumers and retailers alike.
NPG products are sold through all major channels of distribution from both within the United States and to over 30 other countries. Retail and e-retail sales include all major department store chains, home shopping networks, catalogs and e-commerce companies, and the company's products carry the GS and SSA electrical approvals internationally. In addition to product development, NPG's services include sales, marketing, warehousing and distribution. For more information, please visit Nostalgia Products Group, LLC online at: http://www.nostalgiaelectrics.com
For more information, please contact:
Sales and Marketing
Nostalgia Products Group, LLC
Phone: 920.337.9800
Fax: 920.337.9984
E-mail: gbond(at)nostalgiaelectrlcs(dot)com
For media inquiries, please contact:
Karilyn Robinson
Nostalgia Products Group, LLC
Phone: 805.337.9800 x153
E-mail: krobinson(at)nostalgiaelectrics(dot)com