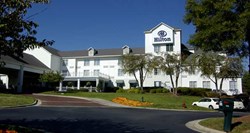 "We just want to focus on providing the best service possible and keep our customers happy."
Raleigh Durham, NC (PRWEB) August 21, 2013
Latest Raleigh Durham airport parking reviews show Greenbee Parking, a fast growing airport parking solutions firm, as one of the leading service providers in the nation. Rave reviews by customers who used their service show how much they appreciated the ease of parking and the affordable rates in the face of steep prices they encountered in the past. Updates on all reviews and feedback (which can be found in the official website and through word of mouth from customers) show that Greenbee Parking is way ahead of the race, both in terms of service and affordability. Raleigh Durham, as part of the Research Triangle, is a major hub for education, research facilities and new age technology companies. This means that it sees quite a high volume of business travelers flying in and out of the city round the year. Raleigh Durham also connects with all major tourist attractions of the state and thus leads to steady leisure travel figures as well. For passengers using this airport parking woes seemed never-ending till Greenbee Parking stepped in to the breach. Now there is not just ample parking space, thanks to them, but also more affordable options keeping both customers and authorities happy at the same time.
"We just want to focus on providing the best service possible and keep out customers happy," said Christine Cooper – Marketing Coordinator, Greenbee Parking. "Innovative ways to book a space and park a car along with sturdy savings are aimed to bring about 100% customer satisfaction. The latest Raleigh Durham airport parking reviews prove that we have been successful in our endeavors and we hope to do come up with even better solutions in future."
Raleigh–Durham International Airport Parking Information
Raleigh–Durham International Airport connects with almost 40 destinations worldwide and has over 400 flights flying in and out of it daily. It serves the cities of Raleigh and Durham as well as the counties of Wake and Durham and surrounding areas. According to the official website, the airport sees almost 10 million passenger footfalls annually which include both tourists as well as business travelers. Raleigh–Durham sees as much visitors for technology businesses as it does for its famous research facilities which draw in the best brains from all corners of the world. For a mid-sized airport, RDU sees a lot of air traffic which in turn has led to heavy ground traffic and high demand for parking space at the airport. Things were pretty much stretched till Greenbee Parking came to the scene with their innovative and affordable parking deals. Now both airport authorities and travelers are happy. The latest Raleigh Durham airport parking reviews show how much they appreciate Greenbee's impeccable service and innovative deals.
The Greenbee Airport Parking Solution
Greenbee Parking has effectively bridged the gap between parking problems and solutions at both airports and major seaports. They have tied up with major hotels for available parking spaces at discounted rates which they offer their customers across the nation who can now save up to 75% of their parking costs.
All they need to do is visit Greenbeeparking, select their city or airport of choice, choose the parking spot and pay through a secured payment gateway. There is a comprehensive list of airports and parking spots to choose from. Greenbee's wide network makes it possible for every customer who logs in to find a solution.
About Greenbee Parking
Greenbee Parking is the nation's most innovative long term parking company, with a new way of making long term parking affordable. The company is rapidly adding new airports to its network. Book with us today to save big!