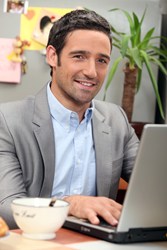 BizAnytime combines virtually every tool, a remote worker could need. A smart way to track, control and collaborate online efficiently.
Phoenix, AZ (PRWEB) August 14, 2013
The idea of working remotely has been a hot topic in the news and blogosphere lately, largely due to Yahoo CEO Marissa Mayer's recent changes to the company's remote work policies. She argues that employees have more creative ideas and make better decisions when they have instant access to their colleagues. The problem with this argument is that numerous studies, such as a recent experiment published by Stanford University, show an increase in productivity and numerous other benefits to working remotely. As many companies continue taking the opposite path of Yahoo, cloud computing application provider BizAnytime continues helping employees make the most of work outside the office.
Mayer's decision to disallow employees to work remote was based on the idea that people collaborate and communicate more efficiently and effectively in person. In contrast, the recent Stanford Study, "Does Working from Home Work," shows evidence of just the opposite from a Chinese experiment. According to the experiment, many employees reported being able to get more work done from home, such as making phone calls, because the environment was quieter and had fewer distractions. The study also showed an improvement in employee performance, cost savings, and numerous other benefits. Similarly, 91% of respondents to a recent survey by BizAnytime say virtual work saves their company time and money.
The shift towards a virtual business culture doesn't appear to be slowing down, despite what's happening over at Yahoo. Just consider the statistics a recent national study by WorldCom found:

Those who have worked virtually make up more than 2/3 of the American workforce.
Telecommuting every day is not unheard of – 14% of U.S. workers do it.
Almost half of workers in America – 46% – work virtually once per week, at least.
Many organizations encourage working virtually. In fact, 27% of people work for those that do.
Organizations that allow telecommuting/working virtually employ 48% of the U.S. workforce.
BizAnytime has long been focused on a remote work environment. The safe, secure cloud application helps people work on any computing device from wherever they want or need to be, whether that is at home, in a coffee shop, on the road, or at any other location. This provides numerous benefits to employees and companies, but there are also some inherent challenges. BizAnytime addresses these challenges with an all-in-one solution that enables collaboration and communication with tools to perform virtually any task imaginable. This includes tools for organization, networking, messaging, chat, to-do lists and tasks, file sharing and storage, video conferencing, and more. As a result, remote workers are able to be 20-30% more productive. With constant innovation and new features, such as the most recent full Dropbox integration and To-Do List, the company is on track to be an essential for any remote worker.
For more information, visit About BizAnytime:
The BizAnytime cloud-based collaboration system provides advanced tools for project management and cooperation among colleagues, clients and vendors. The company offers a range of services that include the following:
Shared Workspaces and projects
Intelligent Dashboard
Project and Task Management Tools
Ongoing Discussion Feeds
Online Chat
Dropbox Integration
File Storage and Sharing Functions
Document Collaboration
Video conferencing tools
Prices start at $10 per month for this advanced suite of cloud computing services.