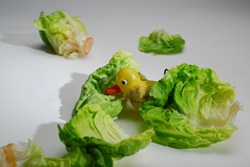 A natural material in itself, paper seems to instinctively lend itself to connect with themes related to nature.
Newark, NJ (PRWEB) August 15, 2013
This Fall the Newark Museum unveils new work by contemporary artists living in the United States. These installations are the newest additions to the Museum's permanent collection exhibition Picturing America, which features works from the colonial times through the present that have had a powerful impact on shaping American culture and identity.
Papyraceous: Recent Acquisitions, Contemporary Works on Paper
Paper was invented in 2nd century BC, but contemporary artists are still finding new and expansive ways to use it as an artistic medium. The Newark Museum's new exhibition Papyraceous: Recent Acquisitions, Contemporary Works on Paper features a range of these experimental approaches and highlights the Museum's ongoing commitment to collecting the work of living artists, many of whom live or work in the New York Metropolitan area.
Artists including Chakaia Booker, Willie Cole, Clinton Hill, Martin Puryear, Alexis Rockman, Shazia Sikander, Kiki Smith and Shoshanna Weinberger utilize a range of techniques that include print making, collaging, drawing and painting. Many of the artists are known for their work as sculptors, and this sensibility comes through in the sculptural quality exhibited in a number of these works, through either shaped and molded forms or through practices like embossing, tearing, cutting and layering.
"A natural material in itself, paper seems to instinctively lend itself to connect with themes related to nature," said Mary-Kate O'Hare, Curator of American Art at the Newark Museum. "Many of the works seen here address issues affecting our environment and humanity's relationship and impact upon it. Themes of geography and identity intertwine with formal experimentation that together offers us new perspectives on our world."
Works on display include those by New York City residents Rockman and Smith. Rockman's Red Hurricane uses a mix of abstraction and figuration to explore the collision between humanity and the natural world; while Smith's Wildfire reflects her concerns about the relationship between humans, animals and the natural environment. Newark-born Booker is represented in the exhibition by Untitled (O). Her prints are created by tearing, layering and recomposing paper into dynamic new forms. Por la Mesa de Mi Abuelita, created by fellow Newarker Willie Cole, is his first handmade paper construction.
New Gallery Devoted to Video Art
The Newark Museum is proud to announce the opening of a new gallery in Picturing America devoted to film and video work. The inaugural installation is a work by Liliana Porter titled Matinee/Matiné. Porter, a native Argentine, has worked in New York for more than 50 years. The work is a recent addition to the Museum's growing collection of video/film media, joining works by artists including Bill Viola, Sue Williamson, Nam June Paik, Raphael Montanez Ortiz and Dennis Oppenheim.
Matinee/Matiné features a range of characters that Porter has collected from various flea markets and antique shops. In each vignette in Matinee/Matiné, Porter sets these figures in different relationships or dialogues that evoke various feelings that can range from humor to sadness to empathy.
Also Now on View
Reflecting the Museum's commitment to collecting and displaying contemporary photography, the Picturing America currently features selections from Janelle Lynch's River series and Maria Magdalena Campos-Pons photographic polyptych Blue Refuge.
Lynch's work will be featured at the Robert Morat Galerie Berlin (September – December 2013) and her latest book Barcelona will be published this Fall.
Stay informed as new exhibition information emerges by following the Museum on Facebook at facebook.com/newark.museum or Twitter at twitter.com/newarkmuseum; or by visiting http://www.newarkmuseum.org.
-- end --
ABOUT THE NEWARK MUSEUM
The Newark Museum is located at 49 Washington Street in the Downtown/Arts District of Newark, New Jersey, just 3 blocks from NJPAC and 10 miles west of New York City. The Museum is open all year round: Wednesdays through Sundays, from Noon – 5:00 p.m. Suggested Museum admission: Adults, $10.00; Children, Seniors and Students with valid I.D., $6.00. Newark Residents and Members are admitted free. The Museum Café is open for lunches Wednesday through Sunday. Convenient parking is available for a fee. The Newark Museum campus, including its collections, facilities, and other resources, is accessible to accommodate the broadest audience possible, including individuals utilizing wheelchairs, with physical impairments, other disabilities, or special needs. For general information, call 973-596-6550 or visit our web site, http://www.NewarkMuseum.org.
Newark Museum, a not-for-profit museum of art, science and education, receives operating support from the City of Newark, the State of New Jersey, the New Jersey Council on the Arts/Department of State — a partner agency of the National Endowment for the Arts, the New Jersey Cultural Trust, the Prudential Foundation, the Geraldine R. Dodge Foundation, the Victoria Foundation, the Wallace Foundation and other corporations, foundations and individuals. Funds for acquisitions and activities other than operations are provided by members and other contributors.
The Newark Museum is just a few steps from the new NJTransit Light Rail Washington Park Station. Direct connection with the Light Rail at the Broad Street Station and through Penn Station makes the Museum a convenient ride from all points in the region.