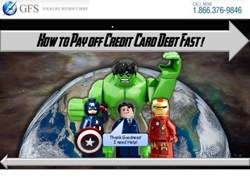 San Diego, CA (PRWEB) August 14, 2013
Golden Financial Services (GFS), a Debt Settlement Company, today announced that it will provide a free Guide to Paying off Credit Card Debt Fast. The guide provides a comprehensive explanation of what Credit Counseling and Debt Settlement are, how they work, and who are the best candidates for each program. In addition, if consumers are current on accounts, tips are provided for paying off credit card debt fast, while paying less money over the term of the debt.
There are often misconceptions about paying off credit card debt. Consumers are unsure about what credit cards to pay off first, and how to pay off their debts in the fastest time-frame. People usually don't realize that they are wasting thousands of dollars over the years when paying only minimum payments on maxed out credit cards. By paying minimum payments only a person's debts may not get paid off for more than ten years.
It can also be confusing for many people when they need debt relief in the form of a program, but are unsure about the best route to take. The Golden Financial Services Guide To Pay off Credit Card Debt addresses these common questions and adds clear paths for consumers to take to get out of debt in the fastest time-frame.
The Pay off Credit Card Debt Guide also addresses the effects that debt relief programs could have on a person's credit score. People can rebuild their credit no matter how bad their circumstances are, but they still need to understand the negative consequences that a debt relief program can have on their credit. All of this important information is addressed in the Golden Financial Services Pay off Credit Card Debt Guide.
"Now is a great time to get out of debt," says Paul Paquin, CEO at golden Financial Services. "We are dedicated to helping people with improving their financial futures through educational outreach, credit counseling and debt management solutions."
The Pay off Credit Card Debt Superhero Guide is now available for the public. View the Pay off Credit Card Debt Guide here.
Golden Financial Services has been in the credit debt relief industry since 2004. The company has helped over 1.5 million customers get out of debt with credit card relief education programs and proven debt relief services.
Golden Financial Services has received an A+ Rating with the Better Business Bureau and has zero unresolved customer complaints since 2004.
Golden Financial Services is partnered with over 200 attorneys regulated by the State Bar in 48 states. Their partner skilled lawyers and negotiators have over 12 years of legal experience focusing on different areas of the law. When a person chooses Golden Financial Services to manage their debt, they are matched with a state attorney to help handle any legal issues that may arise when dealing with debt.
To view the Pay off Credit Card Debt Guide on Slideshare visit here.