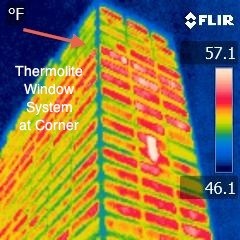 "This is exactly what I want!"
"I can't even tell it was there!"
"You mean the windows are already installed"
"Thanks for helping us take the curtains down"
"I can't hear the traffic anymore"
"You are saving us well over 20%"
South Bend, IN. (PRWEB) August 14, 2013
Thermolite has launched a revolutionary glazing retrofit system that enables rapid ROI for the commercial energy efficiency retrofit market. RetroWAL™ is designed for any curtainwall or storefront and consists of a "Window Attachment Lite" or WAL which is easily installed on the inside of the existing glass in as little as 15 minutes. . The product installs from the inside of the building and greatly minimizes disruption to tenants.
The product increases the thermal performance of single pane windows in commercial buildings, improving center of glass R-value from R-1 up to R-3 (U-factor 1 to 0.33) with just the basic system. Air infiltration is greatly reduced and solar heat gain is controlled by the low-e coating, factory applied thermal film or by using between glass blinds
RetroWAL™ addresses the massive opportunity of retrofitting the commercial buildings in the United States. According to the Department of Energy Building Database, over 53% of commercial buildings have single pane windows.
According to a McKinsey and Company report titled "Pathways to a Low-Carbon Economy", commercial building insulation offers one of the most cost effective strategies (just behind LED lighting replacement) to reduce the use of Green House Gas (GHG) energy emissions. In commercial office buildings where window to wall ratios are oftentimes over 40%, the glazing system represents the best opportunity to decrease total energy consumption.
"This product does many things at the same time," said Thermolite's President Steve Champlin. It reduces the total building energy use and capacity requirements by an average of 20%. This means not only lower monthly heating and cooling bills but also lower capital cost of replacing and maintaining expensive HVAC systems. RetroWAL™ enhances comfort to tenants by eliminating drafts, glare from the sun and greatly reduces street noise. Our technology is always on, never needs maintenance and is good for the life of the building. The return on investment directly effects the utility cost, the people and the environment- it should be the first retrofit consideration in large projects. There is no other product on the market that does all of this at the price."
Priced at less than $20 per square foot, RetroWAL™ can easily be installed by a building's maintenance staff; can potentially deliver the energy performance of a new curtain wall with a 5 year ROI and not displace tenants nor add significant weight to the building structure.
RetroWAL™ also comes with Blast, Hurricane, Ballistic and Wireless Data upgrades.
About Thermolite
Thermolite has been providing energy and security window solutions to local and federal government agencies for over 30 years. It's advanced products and services that reduce energy usage; improve security in the commercial building environment. It is the leader in blast mitigation, energy reduction and hurricane interior window retrofit system technology. The factory is located in South Bend, Indiana.
Therm-O-Lite:
Steve Champlin
steve(at)thermolitewindows(dot)com
http://www.retrowal.com
1-574-234-4004