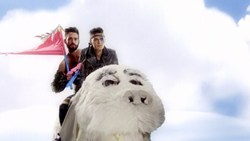 SYNTHS THAT COULD IMPREGNATE A POPE... the greatest video I've seen all year
(PRWEB) August 14, 2013
"SYNTHS THAT COULD IMPREGNATE A POPE... the greatest video I've seen all year," writes syffal.com, joining scores of music blogs who've been heaping praise on "Stratospheric," the 80's-inspired music video from indie electro pop duo Story of the Running Wolf. Already surpassing 275,000 YouTube views in just over a month, and recently featured on the front page of Funny or Die, the video is an epic cinematic romp through the imaginative worlds of John Hughes, Labyrinth, The Neverending Story, and early Spielberg.
Retro nostalgia oozes from every frame of this film. The story unfolds as an angsty teen (Stephanie Allynne - In A World) uncovers a Trapper Keeper fantasy realm, which opens with the band riding Falcor the Luck Dragon. Up next? A date at the ball with an impeccably costumed David Bowie doppelganger. The five minute-long journey culminates in a stand-off between good and a monstrous force of evil.
The high concept video was created by Hardy Howl Films, produced by Katie Hooten and Timothy Hooten, and directed by Todd Edwards. The creative team made a name for themselves with the 1999 Sundance favorite Chillicothe, made history with the blockbuster Hoodwinked (2005), and went viral with the Hanson music video "Thinking 'Bout Somethin'" (2010) featuring Weird Al Yankovic.
When it comes to "Stratospheric," The Most Definitely sums it up perfectly: "This video film is an absolute work of art.
An homage... an opus really. Honestly, there was a time when the music video was an artform...So it's so awesome to see the medium brought back like this. This really isn't even a music video. It's a short film and it must be watched. A fitting complement to one of the best songs of the year."
http://www.youtube.com/SOTRWOLF
http://www.storyoftherunningwolf.com
http://www.hardyhowl.com
Publicity Contact:
Buzzplant
http://buzzplant.com/