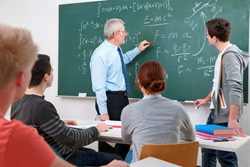 "In this highly competitive world, it's crucial that educators help students learn collaboration, critical thinking, communication and creativity," said Dr. Sternke
Milwaukee, Wisconsin (PRWEB) August 14, 2013
Educators and parents agree that today's schools need to place more emphasis on creativity in the classroom, based on recent studies.* Linking creativity with continuous improvement to strengthen outcomes and build capacity is a key focus of the 21st National Quality Education Conference(NQEC) sponsored by ASQ. The conference will be held November 17-18, 2013 at the Hyatt Regency in Milwaukee, Wis.
This year's theme is Creativity and Innovation: Keys to 21st Century Learning. The conference features the following keynote speakers:
•Sunday, Nov. 17, 8:40 a.m. – 9:40 a.m. – Dr. JoAnn Sternke, Superintendent Pewaukee School District and 2013 Wisconsin Superintendent of the Year will demonstrate how a systems approach leads to transformational leadership, heightened student achievement, organizational efficiency and greater innovation.
•Monday, Nov. 18, 8:40 a.m. – 9:40 a.m. – Alan M. Blankstein, Founder and President, HOPE Foundation and author of the best-selling book, Failure Is Not an Option®: Six Principles That Guide Student Achievement in High-Performing Schools, will focus his presentation on the rise of the quality movement in education, where it is today and a vision for what's on the horizon. He will provide a clear, compelling picture of what is possible in these challenging times.
"In this highly competitive world, it's more crucial than ever that educators help students learn vital skills of collaboration, critical thinking, communication and creativity," said Dr. Sternke.
"Attending NQEC can inspire teachers and administrators to create a new framework for improving their own school systems and raising the bar on student achievement."
Education experts are featured in five major focus areas supporting the national education agenda for high standards, data-driven decisions and increased graduation rates. These areas include:
•Innovation through shared leadership
•Process management to improve services and learning
•Creative collaboration and common lesson planning: developing effective instruction to improve outcomes
•Common core standards and student learning
•Improving achievement through differentiated instruction models
Program Highlights
Educators can take part in more than 30 in-depth sessions as well as four preconference half-day workshops. Topics include:
•Design Thinking: Creativity and Innovation at the Heart of Continuous Process Improvement – Maurice Ghysels, Superintendent; Allison Liner, Chief Learning Officer; and Alicia Bowman, Learning Leader; Menlo Park City School District; Atherton, Calif. and Tom Malarkey, Senior Associate; National Equity Project; Oakland, Calif.
•Advantages of Monthly Progress Monitoring for Differentiation in the Classroom –Mary Schmidt, Assessment Director; St. Anthony School Milwaukee; Milwaukee, Wis.
•Selecting and Crafting the Right Projects for Progress and Innovation – Stephen Spangehl, Director; Higher Education Division; Plexus International; Minneapolis, Minn. and Henry Lindborg, Professor; Marian University of Fond du Lac; Fond du Lac, Wis.
•Design Principles for Learning Guide Teacher Classroom Walk-throughs – Eric Feeney, Assistant Principal; Procter R. Hug High School and Kristen Holden, First-Grade Teacher; Greenbrae Elementary School; Washoe County School District; Reno, Nev.
Those new to quality in education will want to check a special session, Get in the Game! A Comprehensive Overview of Continuous Improvement in Education, led by Jay Marino, Superintendent and Mandy Ellis, Principal; Dunlap Grade School, Dunlap, Ill.
NQEC is the nation's leading conference for teachers, administrators and support personnel to learn about the use of quality tools and concepts that can be applied to improve U.S. schools. It is an outstanding opportunity for educators seeking awareness, commitment, refinement and measurable progress in applying continuous improvement approaches and processes.
About ASQ
ASQ is a global community of people dedicated to quality who share the ideas and tools that make our world work better. With millions of individual and organizational members of the community in 150 countries, ASQ has the reputation and reach to bring together the diverse quality champions who are transforming the world's corporations, organizations and communities to meet tomorrow's critical challenges. ASQ is headquartered in Milwaukee, Wis., with national service centers in China, India, Mexico and a regional service center in the United Arab Emirates. Learn more about ASQ's members, mission, technologies and training at http://www.asq.org.
*http://www.thedailybeast.com/newsweek/2010/07/10/the-creativity-crisis.html