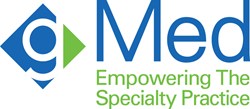 Weston, FL (PRWEB) August 14, 2013
gMed, the industry's leading gastroenterology specific EHR provider, has selected Secure Exchange Solutions as its healthcare data exchange partner. Secure Exchange Solutions, a Maryland based company, provides a secure and scalable connection between healthcare networks and communities, to provide a direct exchange of health care information in compliance with Meaningful Use Stage 2 requirements. Through this partnership, gMed now offers a direct secure messaging component that is integrated throughout all of its products, allowing providers to exchange patient records and clinical care summaries with other caregivers.
"Healthcare Reform requires increased collaboration between providers to coordinate care, improve outcomes and lower costs," stated Joe Rubinsztain, MD, CEO of gMed. "By combining our specialized platform with Secure Exchange Solutions' broad network, our clients will access patient records in other systems without compromise. We are committed to improving gastroenterology, and this alliance opens new doors to exchange information and improve patient health."
Secure Exchange Solutions can deliver patient information to any Direct-enabled system, allowing practices to attach communications directly to their Electronic Health Record system. This reduces the time spent adding information to patient records and allows physicians to streamline communications and coordination of care by exchanging critical information from any location, system or device. For example, a doctor whose patient is admitted to the hospital may receive an admit notification at night from their home computer and instantly respond with important information, rather than waiting for information to come in by fax the next morning.
gMed has partnered with Secure Exchange Solutions because of their reputation in the marketplace, their leadership role in the health information exchange industry and their participation in the Direct trust project. Providers and patients will be able to exchange information with a wider network of caregivers thanks to Secure Exchange Solutions' ability to connect with other Direct trust members such as Surescripts.
About gMed
gMed provides the gastroenterology industry with an easy to use, fully integrated platform consisting of an Electronic Health Record, Endoscopy Report Writer, Practice Management and a Patient Portal. Fully scalable through the cloud or using an on-site server, gMed's products are all Meaningful Use Certified and ICD-10 ready. To find the right gGastro solution for your practice visit: http://www.gmed.com or call 888.577.8801.
About Secure Exchange Solutions
Secure Exchange Solutions (SES) offers simple, secure and scalable solutions for exchanging healthcare information via the Internet. SES is a committed member of the Direct Project and helps healthcare providers meet the requirements for Meaningful Use initiatives. SES products expedite healthcare communications, improving quality of care, optimizing care transitions, speeding up payments and reducing reliance on costly fax, courier and express mail services. For more information, please visit http://www.secureexsolutions.com.