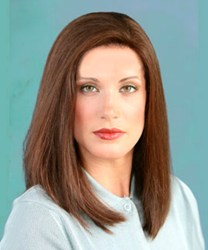 Kosher Wigs turned out to be a win/win for all women who like human hair wigs, whether they are Jewish or not.
Los Angeles, CA (PRWEB) August 14, 2013
Orthodox Jewish law requires that married women cover their natural hair wear or wear wigs as a sign of modesty. In 2004, all human hair wigs from India became "unkosher" by rabbinical decree due to certain Hindu prayers that are said when an Indian woman has her hair cut. This rabbinical decree left many wig makers in the difficult situation of having to unload their inventory of Indian hair at cost.
In 2004, Joseph Aronesty, co-creator of WigSalon.com, the world's first click-and-buy web site in 1995, was the first to notify the media about this strange turn of events that made certain wigs un-kosher, and strangely, it was the folks at Jon Stewart's Comedy Central that first took national notice. The notion of wigs being not kosher is naturally funny because the word "kosher" classically refers to things that Jewish people eat and obviously Jewish women do not eat their wigs. You can watch The Daily Show - Kosher Wig Story on YouTube if you happened to miss it.
The upshot of all this is that "today's kosher wigs cannot be from Indian sources." And ironically, this has turned out to be a huge plus for the hair fashion business and all women who wear wigs. "Today, you don't have to be Jewish to desire a kosher wig because the most reliable kosher wig suppliers are now sourcing their hair from South East Asia, where the hair grown is naturally silkier than courser Indian hair. And with the economy improving, we are seeing a trend to European human hair, which is the best source of all for that silky natural feeling. So 'kosher wigs' turned out to be a win/win for all women who like human hair wigs, whether they are Jewish or not," says Joseph Aronesty, who is still the president of WigSalon.com.
Today, the best in kosher human hair wigs and synthetics can be found at WigSalon.com, and Joseph and his family continues to enjoy working directly with clients. WigSalon still offers "old school" personal service on all of the world's best wigs and has just released some exclusive deals on kosher and European human hair wigs.
WigSalon.com
1-800-262-8437