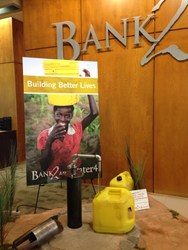 Oklahoma City, OK (PRWEB) August 15, 2013
Bank 2, a full-service community bank headquartered in Oklahoma City, today announced that the bank has partnered with Water4 to raise money and awareness to help solve the world's water crisis.
Bank 2 is has started a unique fundraising initiative involving both their employees and customers to support the work with Water4, a non-profit organization that uses inexpensive materials and easily transferrable technology to enable communities in remote areas to drill for clean water. Through volunteer efforts, payroll deduction programs, and other means Bank 2 has committed to raise $12,000 for Water4; enough funding for a dozen wells, or water for an entire village. The partnership with Water4 is aligned with Bank 2's corporate commitment of Building Better Lives.
"We are proud to partner with Water4 in its mission to help make clean water accessible to millions of people throughout the world," stated Ross Hill, CEO of Bank 2. "Water4 came to our office to introduce us to its organization and to explain how a drilling system works. I was moved by how many people still suffer from water scarcity. It was clear to our employees that we had to support Water4 in its mission to eradicate the global water crisis."
Water4's mission is to provide affordable water solutions to eliminate the world's water crisis. The organization has developed a unique and highly effective manual drilling system that is capable of reaching areas that truck-mounted drills cannot access. Water4's inexpensive technology allows local entrepreneurs to secure their own drill kits and establish their own well-drilling businesses. Further, it supports the local well-drilling businesses by training, equipping and educating people on how to perform well drilling, repairs and pump manufacturing.
According to research conducted by Water4, 780 million people lack access to clean drinking water, which is more than twice the entire population of the United States. In addition, approximately 5,000 children die every day due to a lack of clean drinking water.
About Bank 2
Bank2 is a community bank committed to helping people build better lives. The Native American bank is 100-percent owned by the Chickasaw Nation. Bank2 was founded in 2002 and their headquarters is in Oklahoma City. The bank serves its customers with a wide array of innovative financial products via latest electronic banking technology. The bank is a market leader in the HUD section 184 Native American home loan. Bank2 also offers a full line of government guaranteed commercial loans including SBA, BIA, and USDA loans.
For additional information about Bank2, please visit http://www.bank2online.com or call 405-946-2265 or 877-409-2265.
About Water4:
Water4 is a 501(c) 3 faith-based public charity headquartered in Oklahoma City, founded in 2008 with the mission of demonstrating the love of Jesus by providing at-risk, indigenous people access to clean water. As the Water4 approach is implemented the economic impact is felt immediately as water well-related jobs are created, fresh water sources are established, and the health, welfare and education of local people is greatly improved. Water4 is active in more than 15 countries and has helped more than a quarter million people gain access to clean water.
For additional information about Water4, please visit http://water4.org or call (405) 551-8214 or email info(at)water4(dot)org.