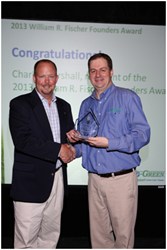 Chantilly, VA (PRWEB) August 14, 2013
Spring-Green honored Virginia-based franchisee Charlie Marshall at the company's National Training Conference in Bloomingdale, Ill. earlier this month. Selected from a national network of franchise owners, Marshall was presented with the Founders Award at this years conference. This esteemed award is the highest form of recognition a franchisee can receive as a member of the Spring-Green franchise system.
"The National Training Conference celebrates the success of our company and allows us to recognize specific franchisees for their achievements," said Ted Hofer, CEO of Spring-Green Lawn Care. "Spring-Green created a Founders Award many years ago to recognize the characteristics, values and efforts of a franchise owner who stands out from his peers. Charlie holds his business to a very high standard and is extremely deserving of this award." Previous winners of the award include Bill Gundlach from Cicero, Ill. (1994), Rod Reining from Olympia, Wash. (1997), Roger Grose from Marietta, Ohio (2000), Jim Richards from Minonk, Ill. (2002) and Rick Hoover from Yorkville, Ill. (2007).
A franchisee for over 15 years, Marshall has seen great success at Spring-Green. He serves clients throughout Fairfax, Prince William and Northern Stafford counties and plans to continue growing his business. The Founders Award recognizes his quality Spring-Green franchise and his participation in, and contributions to, the Spring-Green franchise system, including several years as a member of Spring-Green's franchise advisory boards.
"I'm very humbled to receive the Founders Award," said Marshall. "It's an honor to be recognized for my contributions to the growth of the company."
The National Training Conference took place Aug. 7-9 at the Indian Lakes Resort in Bloomingdale, Ill.
Founded in 1977, Plainfield, Illinois-based Spring-Green Lawn Care has been delivering lawn and tree care services nationwide for over 36 years. Its service is centered on the beautification of residential and commercial customers in middle-class and affluent neighborhoods and communities. Spring-Green is an attractive opportunity for entrepreneurs and existing green industry business owners who want to align themselves with a franchise opportunity that has proven economic resilience, healthy profit margins, industry leading business and marketing intelligence, recurring revenue and retirement & family planning through business ownership. Spring-Green currently has 117 franchises operating in 26 states. Spring-Green Lawn Care franchise owners gave the franchise opportunity a 94 percent overall quality rating, according to the Franchise Research Institute December 2011 survey. For more information, visit http://www.springgreenfranchise.com or http://www.spring-greenfranchiseblog.com/.