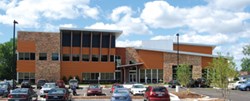 Phase I of our project brings three rented offices to a more centralized location permitting us to immediately save significant monthly lease expenses.
Mishawaka, IN (PRWEB) August 15, 2013
On Tuesday, August 20, The Hospice Foundation and Center for Hospice Care (CHC) are hosting an official ribbon cutting ceremony at the new CHC Mishawaka Campus. Don Schumacher, President and CEO of the National Hospice and Palliative Care Organization, will be speaking at this event.
The official ribbon cutting ceremony is at 4:00 p.m. with a public open house immediately following until 5:30 p.m. All events take place at CHC Mishawaka Campus, 501 Comfort Place (along the river with access to parking off of Cedar Street).
CHC's new campus is on the northern banks of the St. Joseph River, nestled between Central Park and Cedar Street, with the physical address of 501 Comfort Place. The campus is scheduled to be completed in three phases. The first phase includes two buildings, which house administrative offices for CHC, the Life Transition Center (providing bereavement services to anyone who has lost a significant loved one) and Hospice Foundation offices. The buildings replaced office space previously leased at various locations in Mishawaka. Phase II will house CHC medical staff and a Hospice House and will be built as soon as funds are raised.
The new campus emerged through a public-private partnership between the Hospice Foundation and the City of Mishawaka; it was in the planning phases for more than three years.
Schedule at a glance:
4:00 p.m. Ribbon Cutting
4:30 p.m. Open House
5:30 p.m. Event Ends
For more information, contact Lisa Douglass at DouglassL(at)centerforhospice(dot)org or 574.243.3119.
Center for Hospice Care is a premier not-for-profit, community-based agency improving the quality of living through hospice, home health, grief counseling, and community education. With offices in South Bend, Plymouth, Elkhart, and Mishawaka, Center for Hospice Care serves St. Joseph, Marshall, Elkhart, Fulton, Kosciusko, LaGrange, LaPorte and Starke Counties in Indiana.