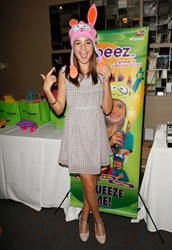 Los Angeles, CA (PRWEB) August 13, 2013
On Friday (August 9th, 2013), Flipeez, Ideavillage's patented action hats, were a part of the KIIS FM Teen Choice Awards Pre Party at the W Hotel in Westwood, CA from 12-4 PM. Attendees were able to interact with Flipeez and experience the hats come to life. Guests were able to select from Rascally Rabbit, Twitchy Kitty, Curious Owl, Playful Puppy and Ranger Raccoon as a gift to take home.
Flipeez hats come to life with the squeeze of a "puff ball" located in the hat's tassel, and are suitable for all ages. Nominees and Presenters were able to stop by the Flipeez Station and take home a hat of their own.
Guests at the prep party enjoyed an exclusive afternoon of festivities, and gifts in preparation for the Teen Choice Awards on Sunday the 11th. The guest list was made up of the "who's who" actors, actresses and recording artists, and industry executives. Guests in attendance included Bailee Madison, Pia Toscano, Roshon Fegan, Janel Parrish, Rowan Blanchard and many more.
Guests also included contest winners from the On Air with Ryan Seacrest radio show, and experienced celebrity VIP treatment throughout the weekend.
ABOUT IDEAVILLAGE PRODUCTS CORP.
Since 1999, Ideavillage Products Corporation has been bringing innovative products to market under the As Seen On TV (ASOTV) banner. Headquartered in Wayne, New Jersey, the company is dedicated to providing affordable, quality products offering solutions to life's everyday problems. Today, they are among the most popular line of consumer goods that include Finishing Touch, MicroTouch MAX, Pedi Spin by Ped Egg, HD Vision, Music Bullet, and Stompeez. Having cultivated one of the largest retail distribution networks in the country, Ideavillage's As Seen On TV products are available nationwide at various food, drug, and mass retail outlets, as well as direct to consumer. Success has enabled Ideavillage to actively support such charitable organizations such as the Breast Cancer Research Foundation, Cherish the Children Foundation, and more.
ABOUT KIIS-FM
102.7 KIIS FM" (pronounced as "Kiss FM") is a Los Angeles, California, United States-based radio station with a Top 40 (CHR) format. It is owned by Clear Channel Communications. KIIS is also simulcast on KVVS in Rosamond, at 105.5 MHz. Known as "102.7 KIIS-FM" and as one of the United States' highest-rated top 40 stations.102.7 KIIS-FM is licensed for HD Radio operations with its secondary channel known as "Evolution", an outlet strictly for Electronic Dance Music. SiriusXM Satellite Radio currently simulcasts the station on Channel 11. KIIS is currently the #1 radio station in Los Angeles, the greater LA Area, and all of the West Coast, averaging 3.6 million listeners.