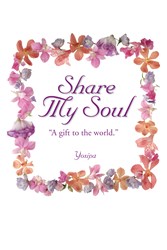 an evocative, honest and heartfelt compilation
Byron Bay, Australia (PRWEB) August 15, 2013
Sometimes inspiration strikes out of the blue, and sometimes it is found in another person's story. For the poet Yosipa, it came through her own challenges growing up, and she has created an evocative, honest and heartfelt compilation of poems in her new book, Share My Soul: A Gift to the World.
Written and compiled over 20 years, the topics range from family and relationships to nature and society. Share My Soul is a collection of more than 50 poems that reflect the author's journey through a difficult childhood, discovering spirituality and other life experiences.
Most of the works in Share My Soul were inspired by Yosipa's time in Byron Bay, Australia, where she lacked access to television and other electronics. The absence of technology allowed her to look inward and explore her creative spirit. The book inspires readers to not only reflect and interpret the poems in their own way, but also to discover and share their own creativity.
"I wrote most of these poems during a period of reflection in the beautiful and vibrant Byron Bay," said Yosipa. "My past experiences, negative and positive, were exposed and I felt inspired to share my take on healing, love and community."
For more information, please visit yosipablue.com.
Share My Soul: A Gift to the World
By Yosipa
Paperback: $8.99
E-Book: $3.99
ISBN: 9781452509730
Available at bookstore.balboapress.com, amazon.com, barnesandnoble.com.
About the author
Yosipa is self-motivated and driven by her passion for living, spirituality and discovery. After leaving home at age 15, she proceeded to make her own path in life with various jobs, classes and personal discoveries. Yosipa currently lives in Bangalow, Australia, with her three children.
# # #