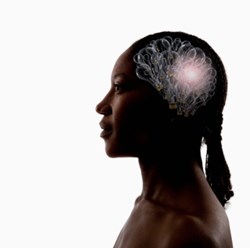 Meditation clears our minds, allowing us to perform our daily tasks with greater ease and satisfaction and see the world through a clearer lens. It also has other positive effects—increased creativity and kindness.
Miami, FL (PRWEB) August 16, 2013
Humanitarian activist Karuṇā Devī offers free, live meditation sessions on GammaGenius.com. She is also offering a helpful meditations book with various techniques on Indiegogo.com—in efforts to fund and expand her site. The site's purpose is to bring together both scientific and spiritual aspects of meditation, inspire others to meditate, and examine it as a potential root solution to our planet's most pressing issues.
GammaGenius is committed to exploring meditation's wide array of effects at the individual and collective level. It also seeks to present how the brain is affected by different factors, such as music and the environment. Essays and accompanying videos are meant to present concepts in a creative way. The site also offers free meditation sessions on its live page, and there are hopeful plans to expand it to include other live meditators.
Karuṇā believes meditation has unbounded potential in education. GammaGenius will also explore how this simple daily practice can positively affect education. She also wishes to look into the role it plays in enhancing creativity.
In her live sessions, she emphasizes two techniques: Breath Awareness and Clear Mind. These two methods in combination, proved effective after one month of three daily thirty-minute sessions. By anchoring her focus on her breath and then going into Clear Mind, she overcame harmful and stagnating effects of stress and ADD to promote mental clarity, creativity, productivity, and well-being.
She has observed people inspired to make positive changes from watching a documentary, reading a book, or listening to a talk—but sometimes revert. She shares that the way to create permanent change is by restructuring your own brain through daily meditation.
There is a sea of information regarding this subject that Karuṇā wishes to disseminate through GammaGenius—from the scientific to the mystical. The funding she seeks is to provide this information to the public in a creative way. To visit GammaGenius, please go to: http://www.gammagenius.com. To join in daily meditation, please go to: http://www.gammagenius.com/live
To support GammaGenius and the meditation cause, please go before Sunday, September 1st, 2013 to: http://www.indiegogo.com/projects/gammagenius/x/2602642
About Karuṇā Devī
Karuṇā Devī is a humanitarian activist. She is self-taught in creative arts. She was self-guided through meditation and has also received guidance from Yoga Master H.H. Swami Brahmavidyananda Saraswati, who is an honorary life member of the World Yoga Council of the International Yoga Federation.
Karuṇā Devī, Activist
GammaGenius.com
786-320-2920
http://www.gammagenius.com