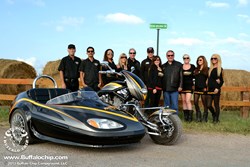 Sturgis, South Dakota (PRWEB) August 14, 2013
Motorcycle Lawyer Russ Brown and five other industry legends were inducted into the Sturgis Motorcycle Museum Hall of Fame during the Sturgis Motorcycle Rally in South Dakota. The Sturgis Motorcycle Hall of Fame is designed to recognize individuals or groups who have made a long term positive impact on the motorcycle community.
The 2013 inductees are:
Russ Brown—Motorcycle attorney Russ Brown has been a champion for motorcyclists' rights for over 35 years. He created BAM, a free roadside and legal assistance program to help motorcyclists wherever they rode. In the event of a breakdown or other emergency on the road, BAM members can rest assured knowing that they are backed by the nation's largest network of bikers-helping-bikers and by a law firm who is committed to their needs. Most recently, Russ Brown began a "Keep Me Alive, Don't Text and Drive" campaign to help keep motorcyclists safe from distracted driving.
Rick Fairless—This motorcycle enthusiast opened his own Easyriders motorcycle shop in Dallas in 1996. He also added Strokers Ice House Bar and Grill to the shop. When Easyriders ended the franchise, he changed his name to Strokers Dallas and added a tattoo and piercing parlor and RF Custom Parts. This master biker builder isn't just an entrepreneur, he is also a motivational speaker, a columnist for two national magazines, and the host of his own radio show.
Bill Gikling—Bill has always loved motorcycles and he even worked at a local Honda dealership in his youth. In 1977, he purchased North West Sports, which was a local Yamaha and Harley-Davidson dealership. He worked closely with "Pappy" Hoel and started the White Plate Flat Trackers and the original museum and hall of fame in Sturgis.
Marjoe Gortner—this motorcycle enthusiast has helped change the way others perceive motorcycling. He organized the 2000 TV show, "Sturgis: The Great Ride" and helped bring the magic of Sturgis to millions of other non-motorcycling Americans. When it debuted on the Travel Channel, his show was the first motorcycle-related program to be broadcast on a non-sports channel.
Lonnie Islam, Sr. –Lonnie is widely considered an expert in the history of antique American motorcycles. He has bought, sold, and restored hundreds of antique motorcycles throughout his lifetime. His motorcycle shop in Houston is world renowned for its performance drag racing and vintage motorcycles. He moved one of his manufacturing companies to Sturgis and is active in Sturgis business organizations.
"Still" Ray Fitzgerald—"Still" Ray was inducted into the Freedom Fighters Hall of Fame. He was a charter member of the Nevada Association of Concerned Motorcyclists and has helped to support political candidates who are sympathetic to motorcyclists and their causes. He helped build number of ABATE chapters in the State of Arizona and has served as an officer of ABATE of Arizona. He was the Motorcycle Rights Foundation's first Sustaining Motorcycle Club Representative. He currently serves as the president of the Journeymen's Motorcycle Club and is also the chairman of the Arizona Confederation of Clubs.
The annual Sturgis Motorcycle Hall of Fame Induction Breakfast was a beautiful event that took place at the Lodge at Deadwood in Deadwood, SD.
Congratulations to all inductees.