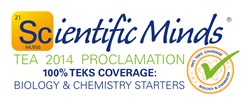 over 100 digital video lessons developed in…new student-centered platform
Orange, TX (PRWEB) August 22, 2013
The Texas State Board of Education is wrapping up its 2014 instructional materials adoption, and Scientific Minds' high school science products, Biology Starters and Chemistry Starters, have been recommended for adoption with 100% TEKS coverage.
According to the SBOE, the Proclamation 2014 adoption process helps school districts and charter schools "ensure that the instructional materials purchased with state funds contain the appropriate content necessary to allow students to meet the state's rigorous educational requirements." Schools can purchase instructional materials adopted by the SBOE with funds appropriated by the Texas Legislature.
State review panel members have been working diligently since late April with at least three members reviewing each product. Scientific Minds was notified of the 100% coverage recommendation at the end of July.
Angie Casteel, Director of Product Development for Scientific Minds, says the company is elated but not totally surprised. "For each product, we assembled a dedicated team of researchers and writers to break down the standards from multiple states. The result is a set of comprehensive high school science products that we expect will have 100% standards coverage nationally."
Scientific Minds' K-12 products are built directly from state and national science standards and are based in best practice teaching methods. Both Biology Starters and Chemistry Starters are a series of over 100 digital video lessons developed in Scientific Minds' new student-centered platform, which includes interactive digital flashcards and quizzes.
Casteel notes that the new platform is ideal for flexible learning environments, so the Starters are a valuable instructional tool for whole-class learning as well as for individual student use and for STEM enrichment. The company offers a free 7-day trial at http://www.ScientificMinds.com.
About Scientific Minds, LLC
Scientific Minds, LLC publishes online resources for K-12 science education. Founded in 2007 by a veteran science teacher, Scientific Minds, LLC provides tools and processes to enhance science instruction and includes strategies to support all students. Scientific Minds products are aligned to standards in all states, Puerto Rico, and the national NGSS. The company mission is to develop quality, web-based educational products that inspire, encourage, and promote next-generation skills for student success.