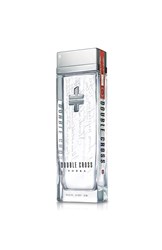 The brand is showing tremendous growth and is well positioned in the vodka category. It's an exciting time to join the business, says Nicholson.
New York, NY (PRWEB) August 19, 2013
Double Cross Vodka recently named Cie Nicholson a Senior Marketing Advisor. The former CMO of PepsiCo and Equinox brings to the team a wealth of marketing experience in both corporate and start-up environments. In addition to her work at PepsiCo and Equinox, Nicholson has co-founded and advised a number of successful start-ups in various industries. Her efforts with Double Cross will focus on both strategic consumer and trade marketing guidance as well as specific tactical marketing projects.
"We are thrilled to add Cie to our talented team here at Double Cross," says CEO and Founder Malcolm M. Lloyd, MD. "She brings a powerful combination of leadership experience, creative insight with a willingness to roll up her sleeves and really dig into the work. We're very excited to have her involved in the business."
Nicholson spent more than a decade at PepsiCo topping off her rise through the organization as SVP and CMO of Pepsi-Cola North America, where she ran marketing for the $5 billion division and had more than 300 people in her department. She won numerous awards while there, including Brandweek's Marketer of the Year in 2001. She went on to be the CMO of Equinox Fitness Clubs and has also founded and advised a number of start-up companies including GamesThatGive.com, Pup To Go and soon to launch Skinny Eats salad dressing and dips products. Nicholson has also been a member of the Board of Directors of Selective Insurance Group since 2009.
"I'm delighted to be working with the Double Cross team," Nicholson says. "The brand is showing tremendous growth and is well positioned in the vodka category. It's an exciting time to join the business and I look forward to contributing in every way that I can."
About Double Cross Vodka
Double Cross Vodka is small-batch distilled in the Tatra Mountains of Slovakia. Seven-times distilled and seven-times filtered, each batch is made with estate-grown winter wheat and pure mountain spring water drawn from aquifers located 200 feet below ground level. It received a rare 95-point rating from Wine Enthusiast and was the first vodka to ever win gold medals for both taste and bottle design at the World Spirits Competition. In 2012 Double Cross received a prestigious "Rising Star" award from the Beverage Information Group.
Double Cross Vodka is available throughout the United States and in Ontario, Canada. You can find the brand in more than 5,000 locations including these national chains in the U.S.: Waldorf Astoria Hotels and Resorts, Omni Hotels & Resorts, Loews Hotels & Resorts, Mastro's Steakhouse, The Palm, Morton's The Steakhouse, Fleming's Prime Steakhouse & Wine Bar, David Burke restaurants, Scarpetta, Hakkasan and The Disney properties. In the U.S. it retails for $39.99 for a 750 ml bottle, and contains 40 percent alcohol by volume.  Double Cross Vodka is the flagship brand of Old Nassau Imports (ONI). Learn more at http://www.doublecrossvodka.com.
About Cie Nicholson
Cie Nicholson is a highly respected senior executive and Chief Marketing Officer with a proven 25-year track record of building brands and businesses. She was the SVP and CMO for Pepsi-Cola North America and the EVP and CMO for Equinox fitness clubs.
Nicholson is a member of the Board of Directors for Selective Insurance Group and was a member of the Association of National Advertisers Board. Cie has also been involved in two prior start-up ventures: GamesThatGIve, a business focusing on integrating philanthropy and casual gaming; and, Pup To Go, a dog carrier business.
Nicholso graduated from University of Illinois with a B.S. in Bioscience and received her MBA in Marketing and Finance from Indiana University. She has received numerous awards including: 3rd place -- Marketer of the Decade (Adweek), Marketer of the Year (Brandweek), Women to Watch (Advertising Age), Marketing 50 (Advertising Age) and Academy of Alumni Fellows (Indiana University, Kelley School of Business).