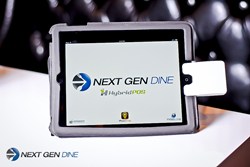 Las Vegas, Nevada (PRWEB) August 14, 2013
Next Gen Dine by Prelag Partners LLC is taking over the restaurant point of sale business with its high speed sophisticated tablet point of sale. The restaurant point of sale brings a different perspective to the POS market.
Next Gen Dine does a so much more than just sales. NGD prides itself in its unique features that set them apart from the rest. Next Gen Dine offers many features that other major point of sale systems do not offer.
Next Gen Dine allows for orders to be taken anywhere within the establishment and is immediately sent to the kitchen for prep, which reduces order turnaround time. Payments can also be taken at the customer's side for peace of mind and ultimate customer satisfaction.
From the tablet point of sale or from a desktop, restaurant owners can see full sales reports, do payroll, track employee hours, set up schedules, and change the menu, amongst other useful features.
In addition, Next Gen Dine offers features such as a loyalty program, online menu ordering, gift cards, e-mail marketing, text message notifications, discounts, coupons, social media integration, and so much more.
Next Gen Dine has tech support available around the clock and ready to help with your NGD related issues to any questions one may have.
Next Gen Dine cloud-based point of sale is the future of restaurant dining. For more information about the product or to find out how your restaurant can take part of Next Gen Dine, contact Paul Roberts at 1-877-342-2218 or paul(at)nextgendine(dot)com.
About Next Gen Dine
Next Gen Dine is a cloud-based, mobile restaurant point of sale software designed for the iPad. Restaurant owners can now capitalize on the benefits of a full-featured POS system for a fraction of the cost of a traditional POS. Due to the mobility offered by the software, employees can take orders directly at the table, take credit card payments at the customer's side, and drastically improve restaurant operating efficiency. Orders placed are sent directly to the appropriate prep station, therefore decreasing order turnaround time. Next Gen Dine also offers restaurant owners customer loyalty, gift card, social media, and fine-grained marketing tools.