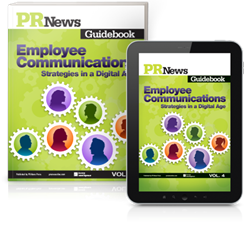 Washington, DC (PRWEB) August 15, 2013
In this edition of the PR News Employee Communications Guidebook, a stellar set of authors share their real-world perspectives on how to connect employees to each other and how their organizations can create vibrant and sustainable value propositions.
The PR News Employee Communications Guidebook is available at http://www.prnewsonline.com/employee-4.
You'll find tips on how to roll out corporate engagement programs; keep your best and brightest employees motivated in a difficult economic climate; use crowdsourcing techniques to tie employees' activities more closely to the bottom line and recognize achievements; build morale through community involvement; engage with your internal team during a period of transition; encourage employees to become thought leaders; train frontline staffers to think like PR pros; and set policies for using social media networks.
Employee Communications Guidebook, Volume 4 chapters include:

General Overview
Motivation & Morale
Management Innovation
Recruiting & Retaining Talent
Crisis Management
Social Media
Workplace Culture and Brand Evangelists
PR News' Employee Communication Guidebook presents the insight, strategies and experiences of executives, communicators and PR practitioners who have transformed organizations by:
➤ Recruiting and retaining the best talent.
➤ Tapping into the intellect and creativity of their workforces.
➤ Leveraging today's social media tools and other technologies to foster interpersonal collaboration and create a strong corporate culture.
Organizations today are under growing pressure to identify new opportunities and constantly improve existing processes in order to respond to constantly changing markets. This requires a workforce that is intelligent, talented and resilient. After all, it is not enough to simply make it through the storm. As Luke Lambert, president-CEO of Gibbs & Soell, points out in the overview section of this book, "At a time of great uncertainty, mental toughness is in big demand." This perspective is all the more critical in today's dynamic and volatile economy, because both organizational structures and strategic objectives must shift as marketplace realities change. How effectively can organizations respond if their employee relations' structures are rigid, job functions are stovepiped and the employees are "stuck" in their ways. Ironically, the cure to this malady is more talk—or at least more frequent and higher quality employee communication.
The PR News Employee Communications Guidebook is available at http://www.prnewsonline.com/employee-4.
PR News' goal with this guidebook is to show communications practitioners how to forge bonds between brand and employee and be the catalyst behind every successful team-building initiative in their organizations.
For more information about the Employee Communications Guidebook or other PR News guidebooks, please contact Laura Snitkovskiy, Senior Marketing Manager at PR News: laura(at)accessintel(dot)com.
About PR News: The PR News brand includes the weekly publication PR News, PR News Webinars and Workshops, the Platinum PR Awards, PR People Awards, CSR Awards, Nonprofit PR Awards, The 100 Best Case Studies Book, Guidebook to Best Practices in CSR; Guidebook to Best Practices in Measurement, Digital PR Guidebook, Crisis Management and Media Training Guidebooks and other products and services. Visit us at prnewsonline.com.