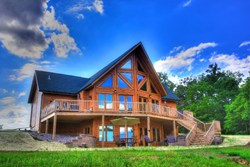 We'll open the doors at 10 a.m. and invite you to not only tour our home, but also to check out the handiwork of the artisans who will be joining us.
Prairie du Chien, Wisconsin (PRWEB) August 15, 2013
Timber Block is pleased to announce the grand opening and open house weekend at Timber Block Wisconsin. The excitement is building; this was posted on Timber Block Wisconsin's Facebook page earlier today.
http://timberblock.com/blog/loghome/free-seminars/log-homes-log-cabins-wisconsin-northcarolina-cottage-energyefficiency/
It looks like the weather will cooperate on Saturday and Sunday, with sunny skies and a high of about 80. The doors at 10 a.m. and you are cordially invited to tour the Timber Block Log Home, but also to check out the handiwork of the artisans who will be displaying some very creative art. The open house will close at 5 p.m. each day.
Also, bring an appetite as the River Ridge High School Student Council will be operating a concession stand in the barn. Proceeds of their sales will help fund Student Council activities.
Michael and Victoria Boomgarden have documented their journey in building their dream home. Stop by this weekend to learn more about the Boomgarden's path to building their home and eventually, the decision to join Timber Block as a local dealer.
Like a lot of folks, the Boomgardens had talked about building a cabin for a long, long time. Occasionally picking up a copy of Log Home Living or similar cabin/cottage fantasy material and gaze longingly at the photos of beautiful homes in beautiful places. Occasionally, they'd stop at some roadside log home model, walk through, and leave with an unfulfilled yearning.
The Boomgardens finally decided on a Timber Block home for a number of reasons. Customization, ease of build, less maintenance and of course, energy efficiency.
Say Boomgarden, "I don't claim that this is a scientific study, but when you can maintain comfortable temperatures while using less than one-twentieth the energy of a comparably sized modern home, you have to conclude that Timber Block homes are amazingly energy efficient." Find out more about Timber Block's energy efficient homes this weekend from LEED AP, Parker McGee, Timber Block's National Construction Manager.
Timber Block is the R-30 insulated log home featuring a patented and proprietary panelized building process. A proud member of the National Association of Builders, US Green Building Council and the Panelized Systems Built Council. A family owned business with offices in Quebec, Ontario, France and North Carolina.