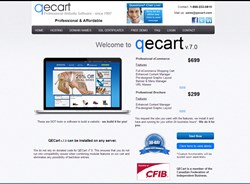 'The little guy can now compete with the big guys.'

- Dr. James A. Long, PhD
Torotno, ON (PRWEB) August 21, 2013
LCD Flat Panel Monitors used to cost $2000 to $3000, and now they are $200 to $300, which is a dramatic difference. QECart has done the same thing for web development, making eCommerce websites that used to cost $2000 - $5000 available now for only a few hundred dollars.
QECart v7.0 is not "Web Site Builder" software where a customer is given free software and must learn how to do it themselves. With QECart, the customer simply selects the desired features - and QECart professionally builds the website for the customer, ready in one business day, with an exclusive Patent Pending process.
QECart's process is new and guaranteed exclusive, so much that if any company can create a customer's website with the same quality, in the same time, and for the same price - then QECart will build that customer's website for free.
"Custom Graphic Designs" are also available - and the cost is lower than some companies charge for templates.
QECart v7.0 software is safe and secure and there are no compatibility issues as all the coding is created by QECart's staff. Also, the code is documented and any qualified PHP, Java Script, Ajax and MySQL programmer can modify it, if any future changes are desired. QECart can also create any custom features will provide a quote upon request.
Interested customers can go to http://www.QECart.com and view their Portfolio and sites already completed. If you wish to purchase a website, enter the Code PRWEB to receive a huge discount.