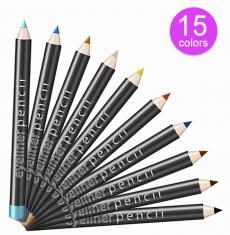 We expect to add up to 500 more popular makeup and cosmetics products within the next few months.
Los Angeles, CA (PRWEB) August 15, 2013
Lady de Cosmetic, the online cosmetics retailer known for their large inventory and affordable prices, announced today the addition of a new line of charcoal eyeliner pencils as part of a large acquisition of new products from L.A. Colors. These high quality charcoal eye pencils are priced to fit the budget of just about anybody.
"Check out our online makeup store and see these great new eye pencils for yourself," says Daniel D., Lady de Cosmetic's general manager. "Our goal is to make high quality makeup products available to everyone -- even if you're on a tight budget. In this economy name brand cosmetics are out of reach for most working women."
Surveys show that high-priced luxury products, like cosmetics, are usually the first things to get cut from the budget of the average struggling family. These L.A. Colors Eyeliner Pencils will be especially appealing to mothers who work, single girls on a budget and students.
Lady de Cosmetic has revealed that these eye pencils are just one of dozens of new high quality products being added to the already huge inventory at Lady de Cosmetic.
Lady de Cosmetic is quickly gaining high visibility on the Internet from fashion bloggers and on Facebook and Twitter. "Lots of colors, excellent quality and a really great price - these factors make Lady de Cosmetic's products contenders in the race with name brands for Internet supremacy," blogs one fashionista.
"People always wonder how we can offer these incredible prices," says Daniel D. "For us, it's actually not that hard, as we have many long-established contacts with manufacturers of quality cosmetics here and abroad, and we can import huge consignments of these products at rock bottom prices. This gives our customers the same huge buying power that we have. We expect to add up to 500 more popular makeup and cosmetics products within the next few months. We look forward to see all our fans and customers happy, excited and beautiful."