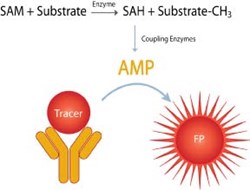 Madison, WI (PRWEB) August 15, 2013
Methyltransferases are key players in epigenetic control of gene expression and have become the targets of intensive public and private drug discovery efforts. To accelerate these efforts, BellBrook developed the Transcreener EPIGEN Methyltransferase Assay, a fluorescent SAH detection assay with the sensitivity needed to detect any methyltransferase at physiological SAM concentrations, and the robustness required for industrial HTS. Since its introduction in 2011, the EPIGEN assay has been validated on all of the major instrument platforms and adopted by industrial and academic laboratories worldwide. Now, in response to customer feedback, we have reduced the number of components and simplified the protocol. The performance and response of the simplified assay is identical to the original kit; it contains pre-mixed detection components, so assay set-up is simpler and results are more reproducible.
By utilizing its expertise in HTS assay development, the BellBrook team is able to offer universal, fluorescence based detection of any methyltransferase enzyme that uses SAM as a methyl donor. This approach avoids the complexities and difficulties of detecting specific methylated products. The EPIGEN assay relies on enzymatic conversion of SAH to AMP, which is then detected using the Transcreener® AMP/GMP Assay. It provides robust activity measurements even with very low levels of SAM, while still offering the outstanding deck and signal stability of BellBrook's Transcreener® Assays. Similar EPIGEN assays are being developed to screen additional epigenetic enzymes, including Histone Acetyltransferases (HATs).
About BellBrook Labs
BellBrook Labs is dedicated to accelerating drug discovery and biological research by providing innovative high throughput screening solutions for enzymes and phenotypic assays. The company's Transcreener® HTS enzyme assays, used by all of the major pharmaceutical companies, make it easy to screen thousands of different enzymes, including validated targets like kinases, as well as emerging targets like ATPases, GTPases, methyltransferases, and glycosyltransferases. The iuvo™ Microconduit Array technology and assay screening service is a line of unique microscale devices for miniaturization and automation of advanced cell models that are more representative of human physiology.